Mauricio Pochettino and Mikel Arteta meet as head coaches for the first time on Saturday – but the Chelsea and Arsenal bosses know each other inside out. "He's part of my family," says the Argentinean.
Rewind to 2001 and Arteta – just a teenager – had arrived at Paris Saint-Germain on loan from Barcelona's B side. It was his first experience in the first team of a top-flight side and he was struggling to come to terms with the transition.
Fortunately, PSG had another new recruit. Pochettino – 10 years Arteta's senior – took the Spaniard under his wing.
"It was my first professional opportunity in Paris and we arrived at the same time and lived together in a hotel for three months," Arteta said on Friday.
"He was critical, he has been one of the most influential people in my career, firstly as a player, he took me under the arm and looked after me like a little child, a little brother.
"He was a big part of the success I had in Paris. It was because of him because he really looked after me, gave me a lot of confidence and a lot of advice."
Chelsea head coach Mauricio Pochettino says Arsenal boss Mikel Arteta can become one of the greatest coaches in the world

Pochettino has equally fond recollections of that period and says the signs were already there that Arteta would make a successful coach in the future.
"Amazing memories. We share values and the passion for football," Pochettino said.
"He's part of my family from day one. We arrived in Paris together and we spent time together with our families, first of all in the hotel and then we lived very close.
"It was an amazing history. He's not surprised me with what he's doing because he was a coach already at 17!
"He was really good with how he saw football. He can be one of the greatest managers in the world."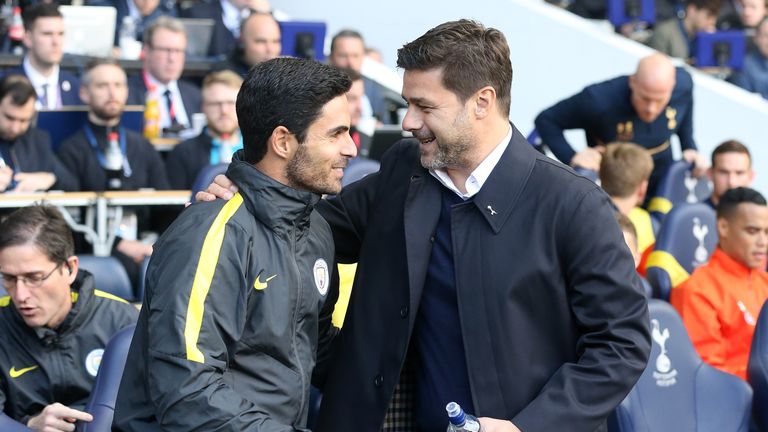 Picking out Arteta's strengths, Pochettino explained why he thinks the Gunners boss is destined for the top.
"What Arsenal are showing is because he's one of the best," Pochettino said. "I don't care if he's young or not young – he's one of the best coaches in the world.
"It's not only about being good tactically – it's about how you manage people, the media, the owners, the sporting director. It's not only about being clever."

Saturday 21st October 5:00pm


Kick off 5:30pm

Arteta – who labelled Pochettino's early work at Chelsea as 'phenomenal' – revealed in his press conference ahead of his side's trip to Stamford Bridge that Pochettino's influence continued from those early days through his career as a player and into coaching.
"I went from playing Ligue 1 to a week later Champions League in Milan, I was all over the place," said Arteta. "I didn't speak the language, it was my first professional club and I needed someone to be close to me, give me confidence, give me support, because I was thrown in there and they said 'play, you're in the starting XI'.
"So he was coaching me, talking to me. Really, really inspirational. He was really supportive. I was living with him for 2-3 months so that period was key in my career to be able to make it.
"He's an expert at giving you confidence and then keeping you on your toes all the time and being really harsh on me every time I was doing something: 'Where have you been last night?!' He really looked after me.
"The way he understood the game was phenomenal. I used to have him at my back and he was constantly coaching me. Very proud of what he has done and the way he has done it throughout his coaching career.
"I'm so grateful for what he did for me and the way he guided me in those early years. He got something else out of me that was needed in that period to make it and stayed with me in my football career as a player and coach."
Stunning goals, touchline clashes, and incorrect red cards! Sit back, relax, and enjoy the most memorable moments at Stamford Bridge between Chelsea and Arsenal.

Pochettino is relishing the prospect of going head-to-head with Arteta on Saturday – although admitted there would be no favours for an old friend when the first whistle blows.
"It's going to be really nice because my love for him is there," said the Chelsea boss.
"He's more than a friend – he's family. It's going to be strange. But we are really competitive and you want to win. You want to destroy the opponent!"
Arteta shared a similar sentiment.
"It's great that after those years we're in this situation where you face each other and we're both managing great clubs in the best league in the world. it doesn't get better than that.
"On game day? Go for him! He is going to do the same. We are both winners."
Friends reunited
It won't just be Pochettino and Arteta seeing familiar faces on Saturday. The derby will be the first time Kai Havertz and Jorginho have gone back to play at Stamford Bridge since leaving Chelsea for Arsenal.
"I'm sure they'll be excited," said Arteta. "They were there and they talked really highly about the club. I'm sure it'll be a special day for them."
Havertz will command particular focus after his early struggles at Arsenal. With just one goal in 12 appearances for the club there are questions about his form and role.
Ahead of Kai Havertz's return to Stamford Bridge, Sam Blitz takes a forensic look at his tactical role at Arsenal.

Armando Broja will miss Chelsea's game against Arsenal due to "irritation" in his knee. Late checks will be made on the fitness of Reece James, Axel Disasi and Nicolas Jackson, while Benoit Badiashile could return from a long-term injury.
Enzo Fernandez and Moises Caicedo should be available despite travelling to South America during the international break.
Ben Chilwell, Carney Chukwuemeka, Christopher Nkunku, Romeo Lavia, Wesley Fofana and Trevoh Chalobah remain unavailable.
Arsenal will make a late call on the fitness of Bukayo Saka, William Saliba and Leandro Trossard.
Saka missed the win over Man City before the international break after limping out of both the Champions League defeat at Lens and previous win over Bournemouth. He was also unavailable for England duty.
Meanwhile, Saliba was forced to withdraw from the France squad to rest a 'chronic toe injury', despite a starring role in that win over City. Trossard came off at half-time in that match and missed Belgium's games with a hamstring issue.
Watch Chelsea vs Arsenal on Saturday, live on Sky Sports Main Event and Premier League from 5pm; kick-off 5.30pm.