October 27, 2023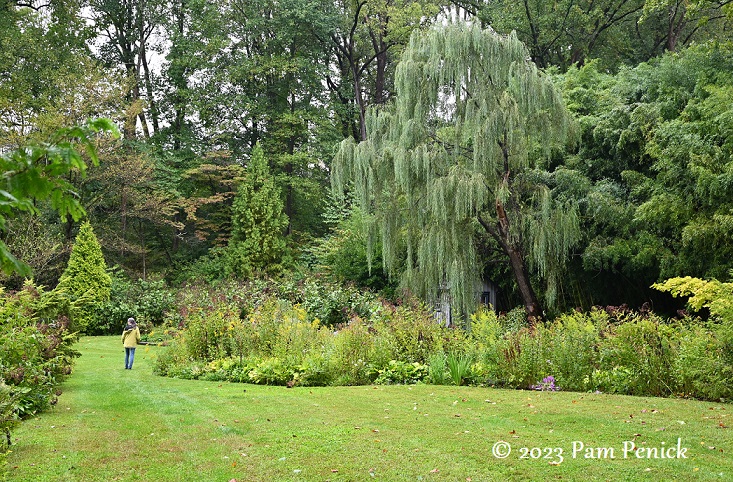 During the Philadelphia-Area Fling in late September, we toured Wayne Guymon's WynEden in Chadds Ford, Pennsylvania. WynEden is an enormous private garden at 9.5 acres, "with 4,000 different plants and cultivars, 15,000 hostas, 7,000 Rhododendrons & Azaleas, 3 ponds, 3 streams and 5 acres of edited woodland," according to Guymon's website.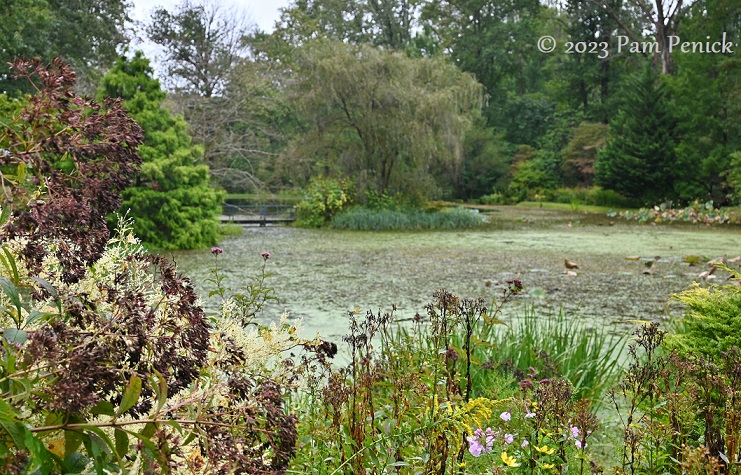 I headed down a sloping path to the lower garden, where a large pond — complete with a bridge-accessible island — offers a picturesque view.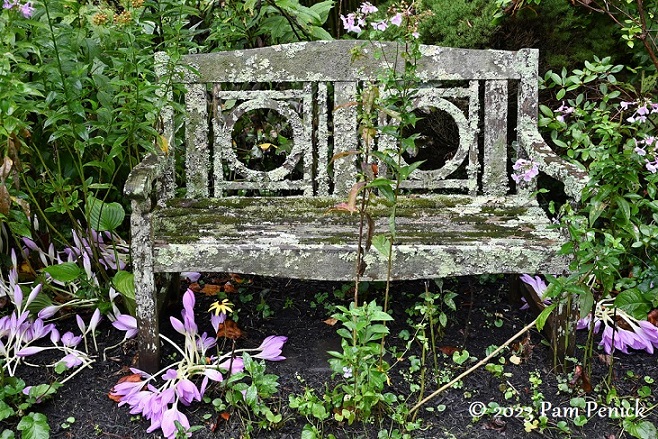 The day was soggy for bench-sitting, but this lichen-wallpapered bench with rain-flattened cochicums still makes a pretty picture.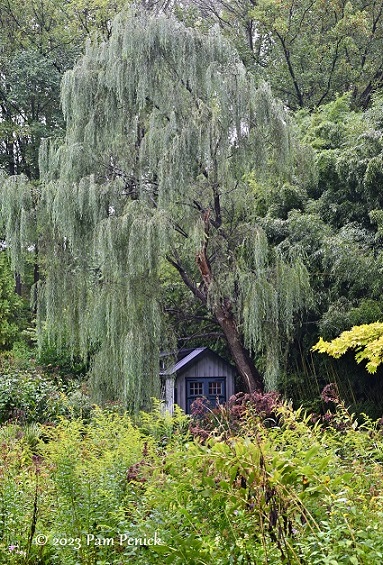 Nearby, a romantic weeping willow frames a blue shed.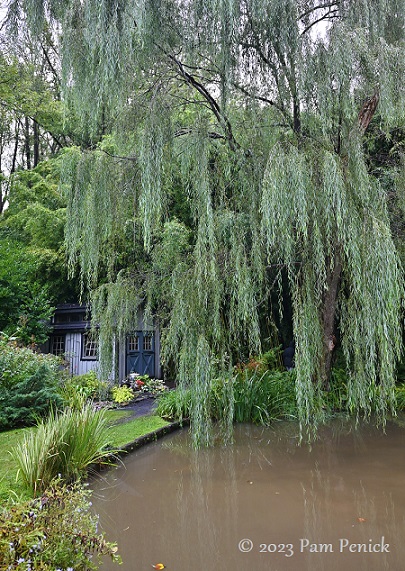 Its roots luxuriate in another, smaller pond made muddy by Tropical Storm Ophelia's deluge.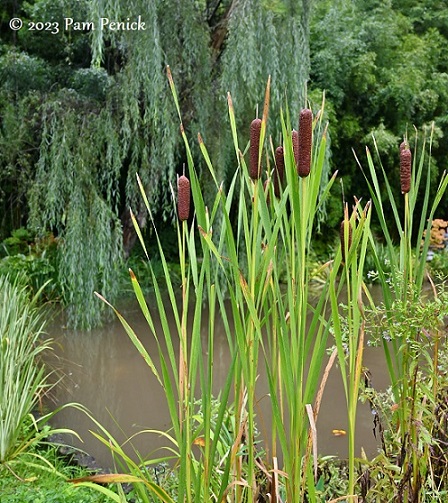 Cattails don't mind a little rain.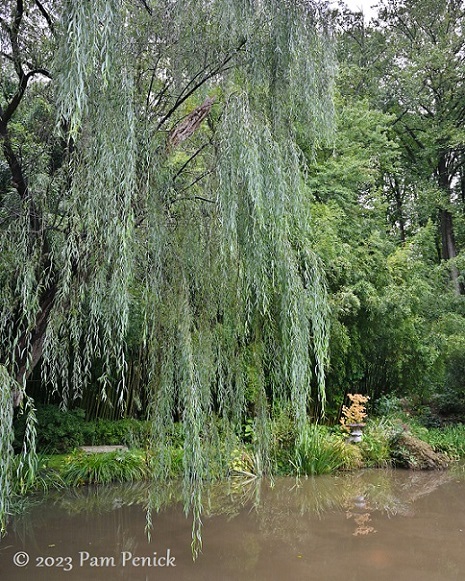 Neither do willows.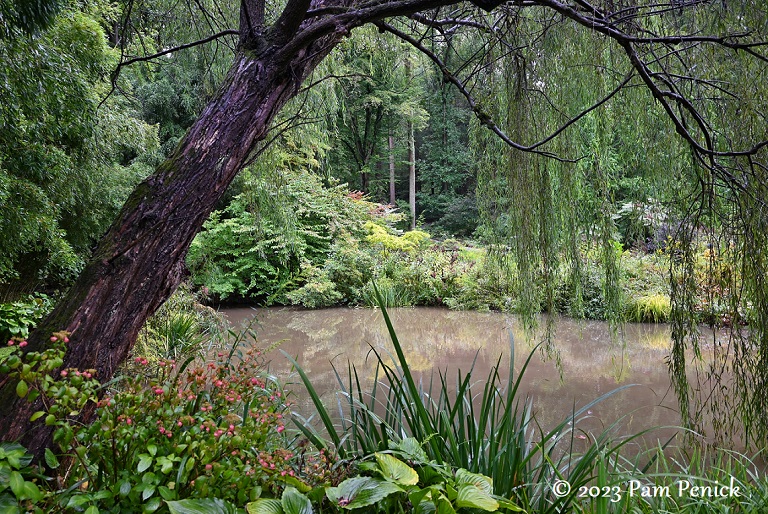 And neither did I, really. The garden (and the Fling) was a welcome escape from the heat and drought of a searing Austin summer.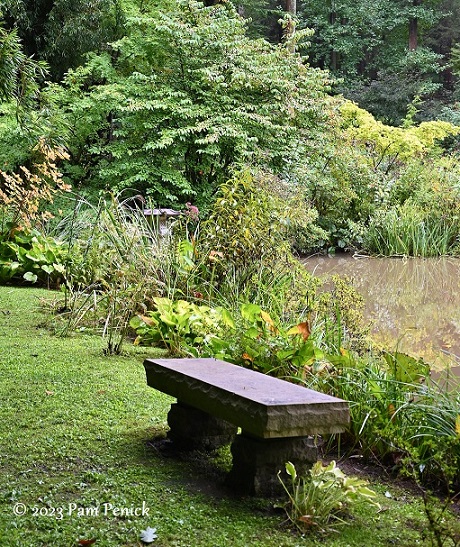 Another spot to sit on a drier day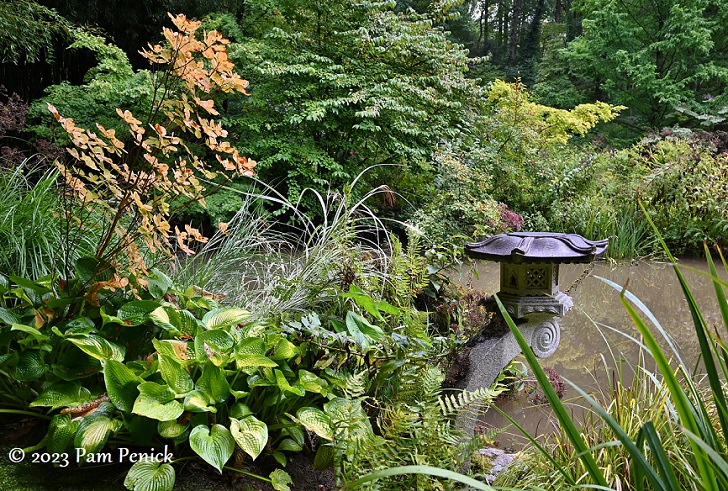 A stone lantern leans out over the water, as an orange-leaved cotinus (I think) echoes its posture.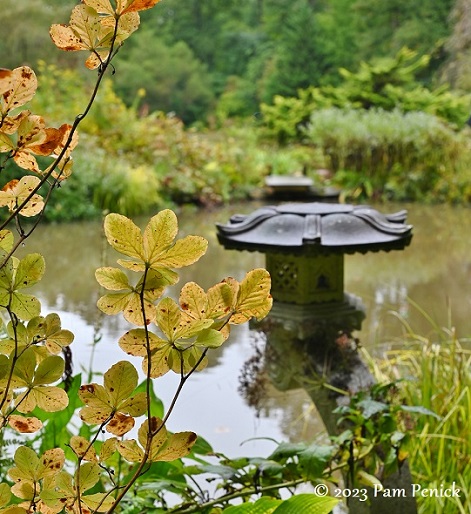 A little bit of fall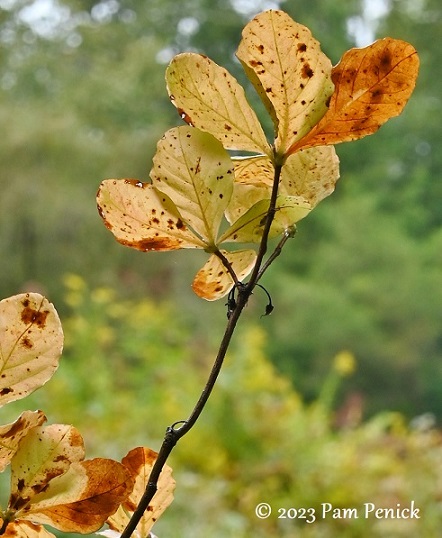 A little bit more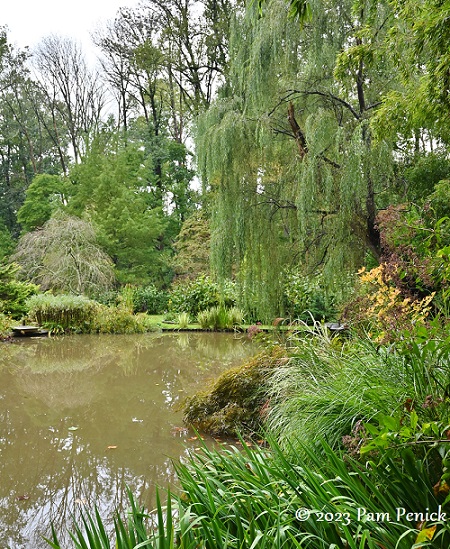 A small dock on the other side offers access for feeding fish, perhaps, or launching a rowboat for a pond picnic? My romantic imaginings are going now.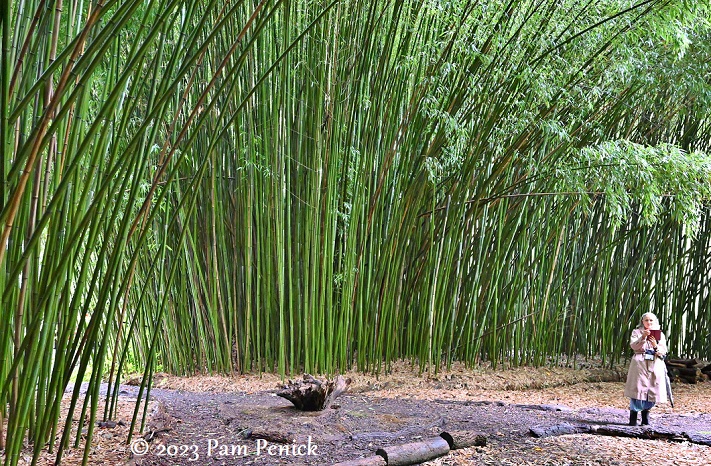 Behind the pond, a towering, wave-crested stand of bamboo seems to threaten to swamp visitors. I read that Wayne re-trenches around it every year to keep the bamboo from spreading where he doesn't want it. What a job that must be!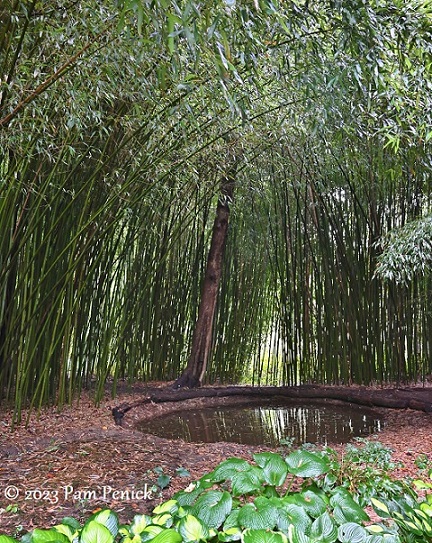 Paths lead into the rustling bamboo forest, where a small round pond — a mirror in the earth — reflects the tall, arching culms. It's a magical space.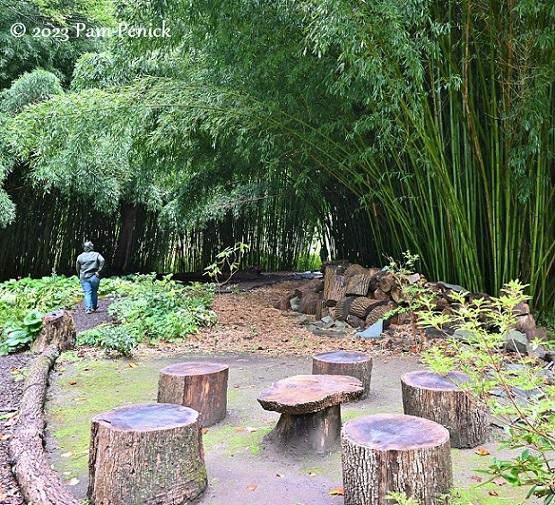 A circle of stumps offers a conversation spot.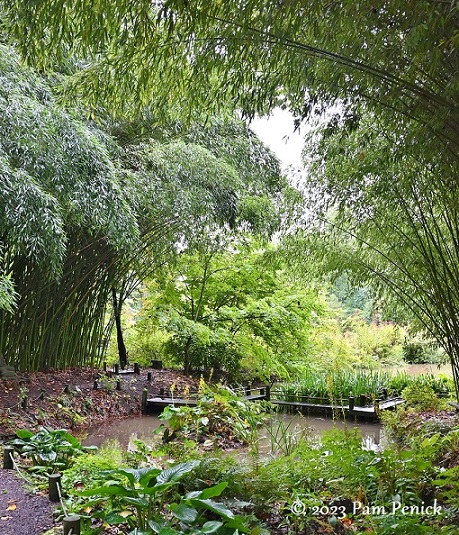 Emerging from the bamboo you see an Asian-style zigzag bridge across the weeping willow pond.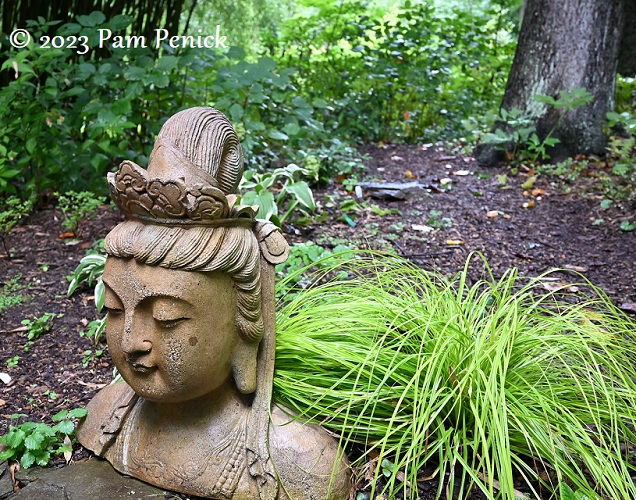 Garden art plays up the Asian theme.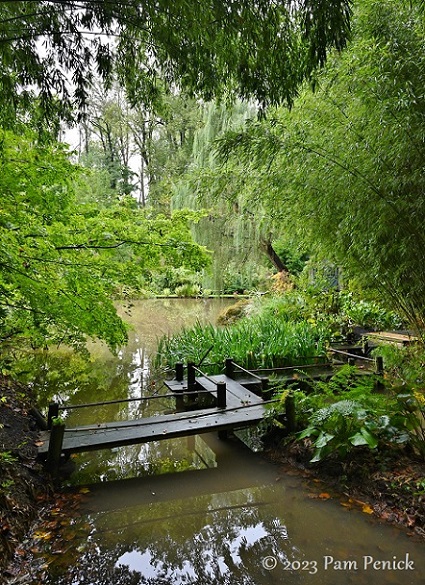 The bridge and bamboo frame a romantic scene.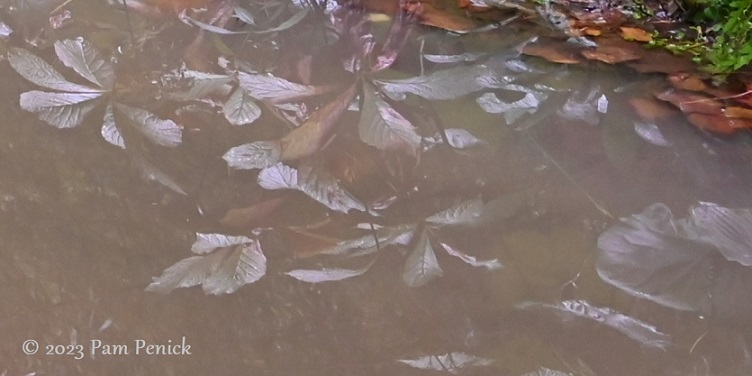 Reflections in the water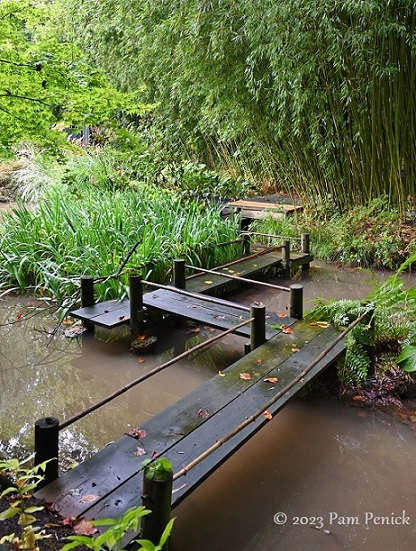 The zigzag bridge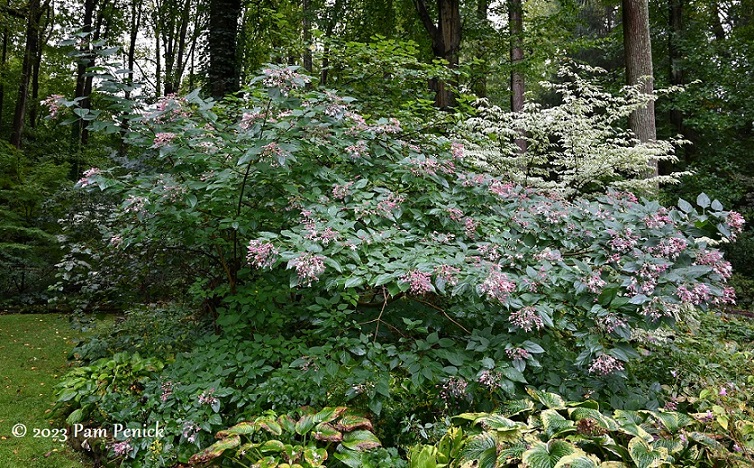 There was much more to see at WynEden, but I spent all my time in the Asian pond garden. I did stop to admire this flowering shrub on the way back to the bus. On to the next garden!
Up next: The spectacular home garden and meadow at Owl Creek Farm. For a look back at a shopping trip at Terrain home/garden shop near Philadelphia, click here.
I welcome your comments. Please scroll to the end of this post to leave one. If you're reading in an email, click here to visit Digging and find the comment box at the end of each post. And hey, did someone forward this email to you, and you want to subscribe? Click here to get Digging delivered directly to your inbox!
__________________________
Digging Deeper
Tour several Austin gardens on Saturday, November 4, on the Garden Conservancy's Open Day tour for Travis County. Tickets must be purchased online in advance and will be available beginning September 1st.
Come learn about garden design from the experts at Garden Spark! I organize in-person talks by inspiring designers, landscape architects, and authors a few times a year in Austin. These are limited-attendance events that sell out quickly, so join the Garden Spark email list to be notified in advance; simply click this link and ask to be added. The Season 7 lineup can be found here.
All material © 2023 by Pam Penick for Digging. Unauthorized reproduction prohibited.