October 22, 2023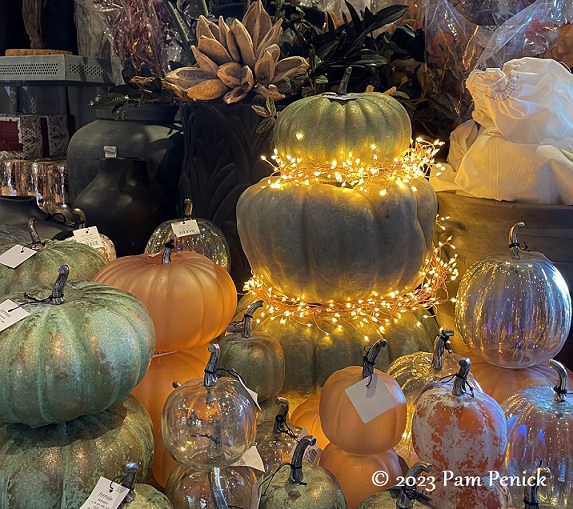 It's good for my wallet that we don't have a Terrain in Austin, or even in Texas. I know, I know, Terrain has an online store. But my infatuation with this beautiful garden shop stems from its immersive, gorgeous, creative store displays and merchandising.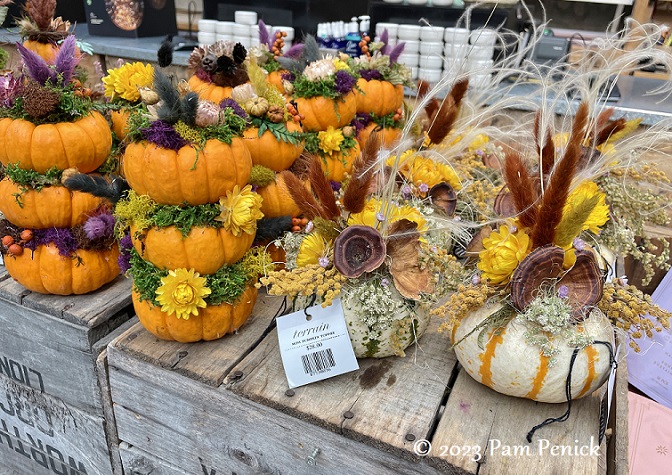 Especially when it's all decked out for autumn, my favorite season.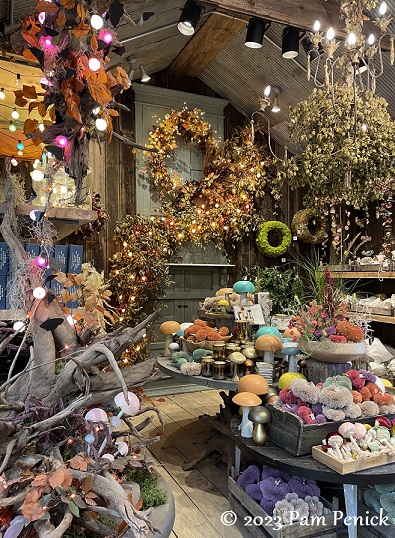 Walking into the big flagship Terrain in Glen Mills, Pennsylvania, I kind of wanted…everything. Or at least to look at everything. Luckily, when I visited with friends the day before the Philadelphia Area Fling, and again during the Fling tour, I was constrained by the knowledge of very limited space in my suitcase.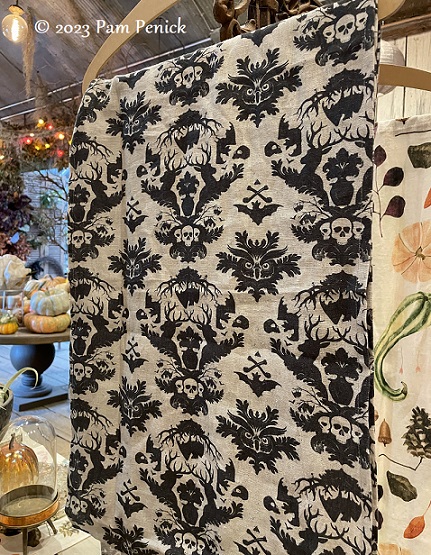 I just window-shopped. Mostly.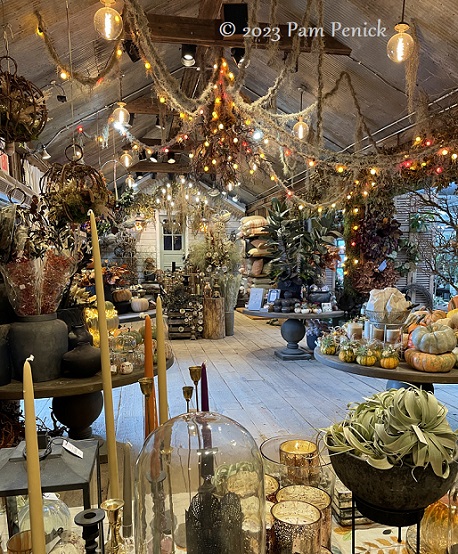 A Gothic mood was evoked with Spanish moss swagged from chandeliers. Matte black pots and tables displayed witchy arrangements of dried florals, stacked pumpkins, and harvest-hued tapers.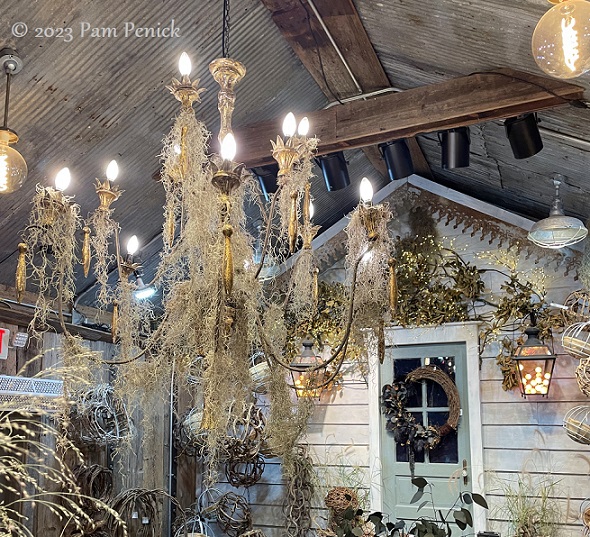 Theatrical Haunted Mansion vibes?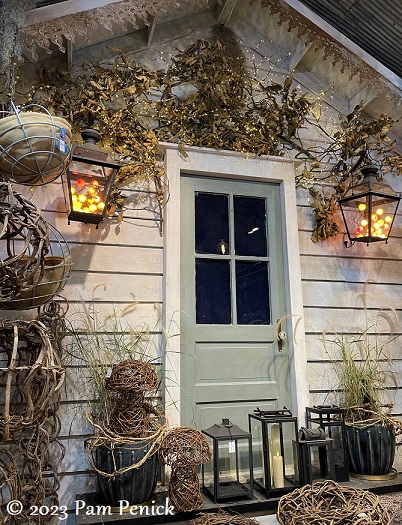 Grapevine toadstools, black iron lanterns, flowering grasses, and garlands of dead branches — I think I was delirious from too much Texas summer and was falling in love with fall all over again.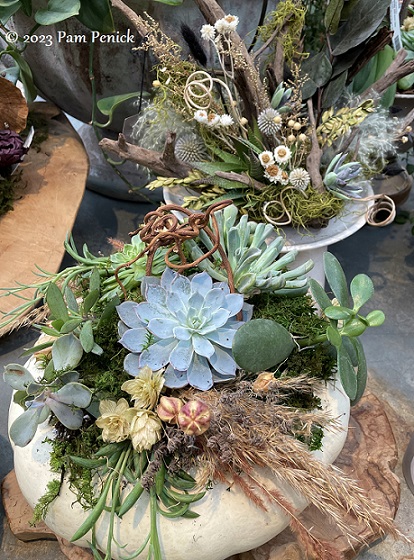 I lingered over succulent-and-dried-floral pumpkins — so easy to hot-glue one yourself (but will you?).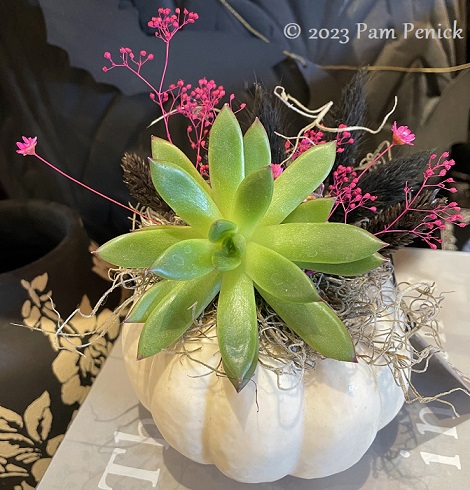 Hot-pink dried florals zinged this one up.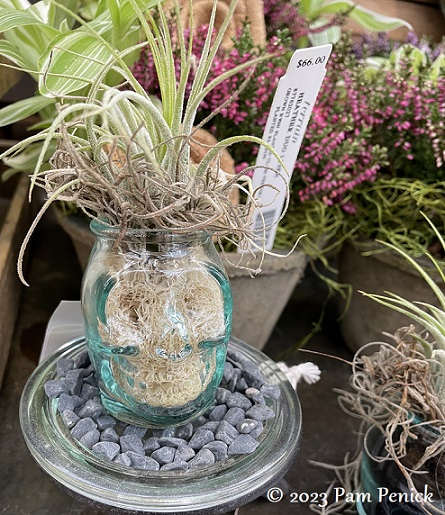 A tiny, turquoise glass skull was stuffed with coir or something and topped with a tillandsia hairdo.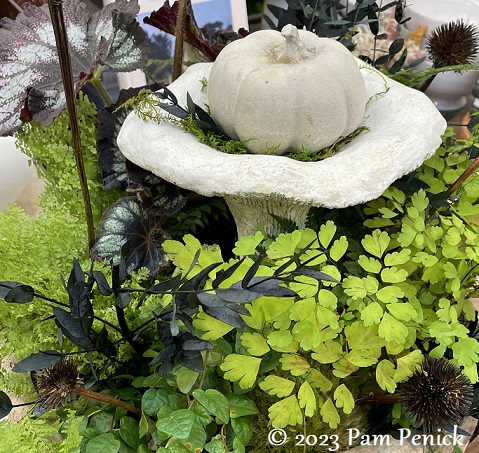 A little concrete pumpkin in a bed of moss was tucked in a concrete toadstool, with acid-green and black living plants adding witchy color.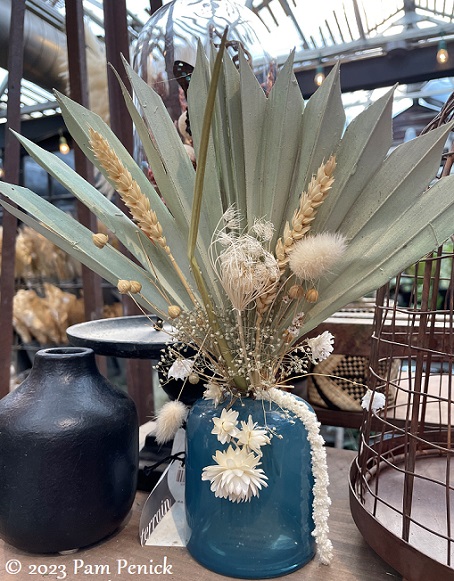 A beachier take on fall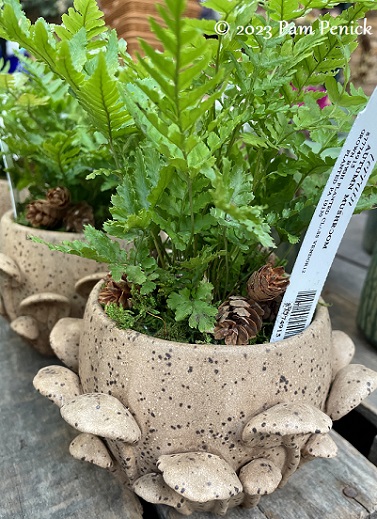 A cute mushroom pot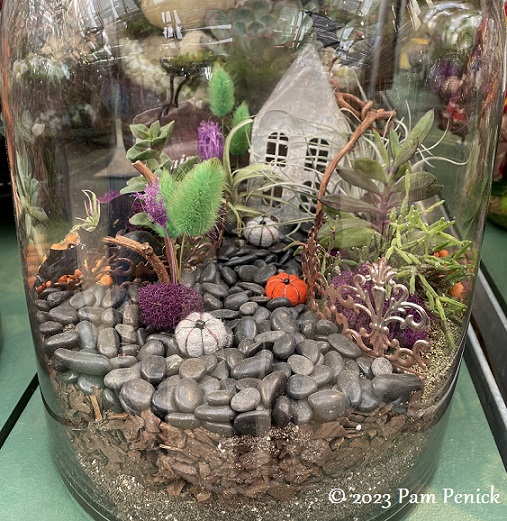 A haunted house terrarium with teeny-tiny pumpkins!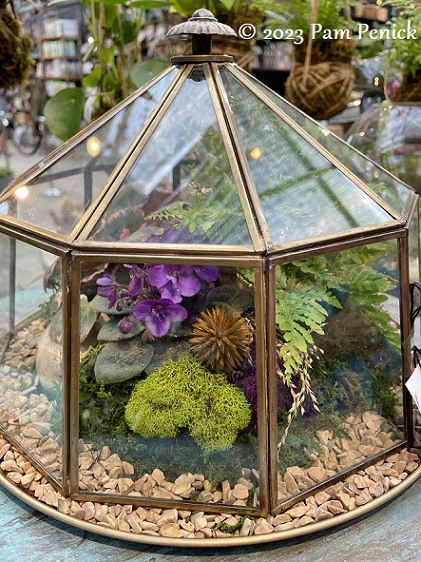 Another pretty terrarium built up on a saucer of gravel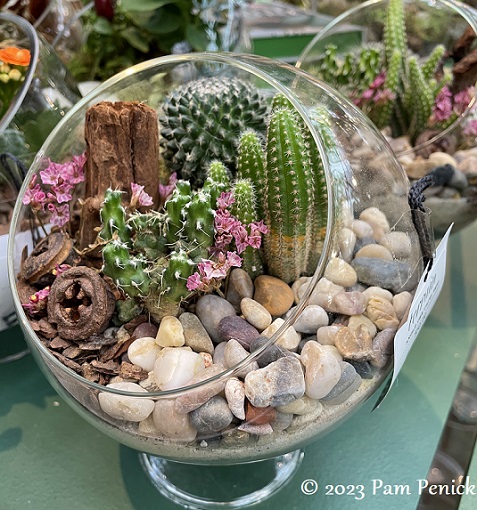 And an outer-space-ish cactus orb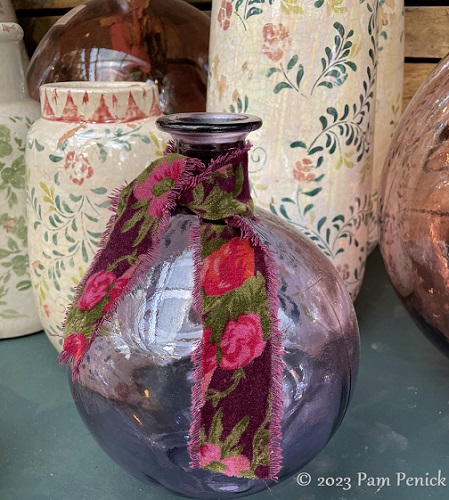 A velvet floral ribbon dresses up a lavender glass vase.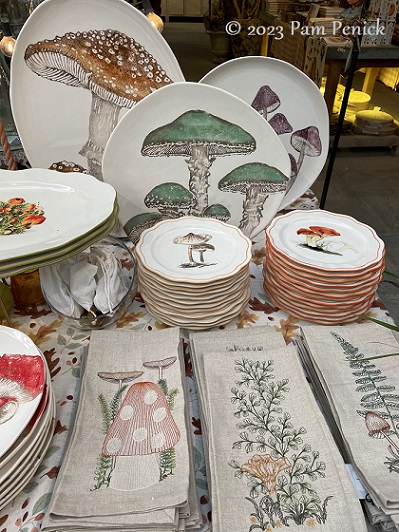 Mushroom plates and tea towels for the fun guy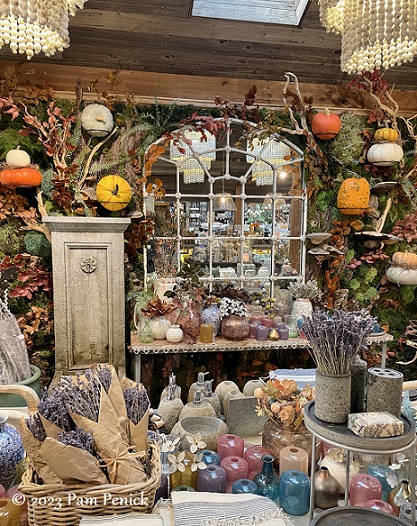 A wall of pumpkins at the back of the store — because more is more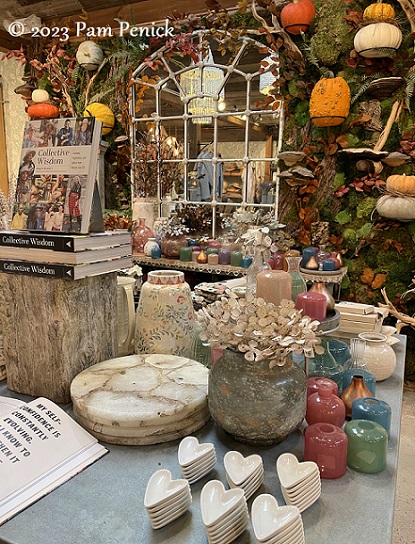 Pumpkin love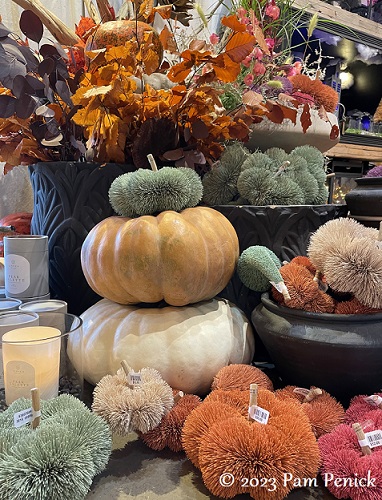 Bristle pumpkins too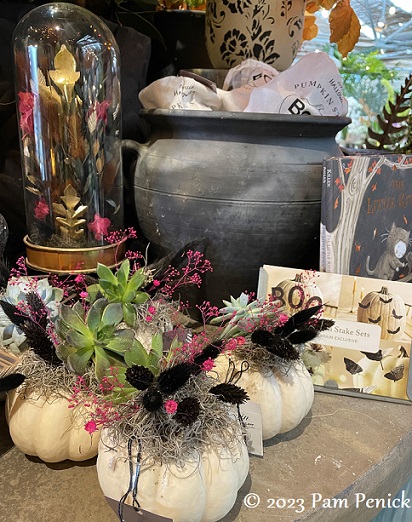 Really, can there be too many? No, there cannot.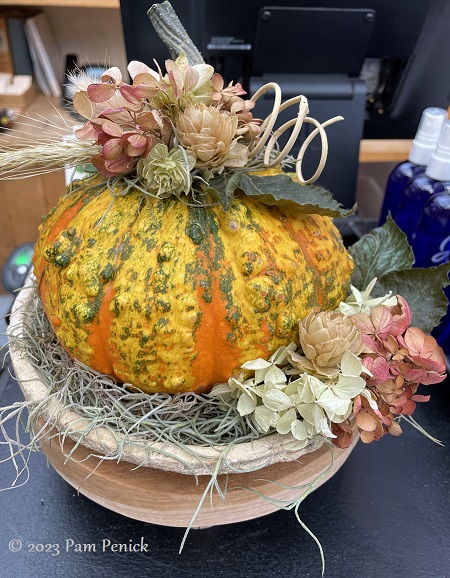 A warty pumpkin is made sweet with pastel dried hydrangeas and moss.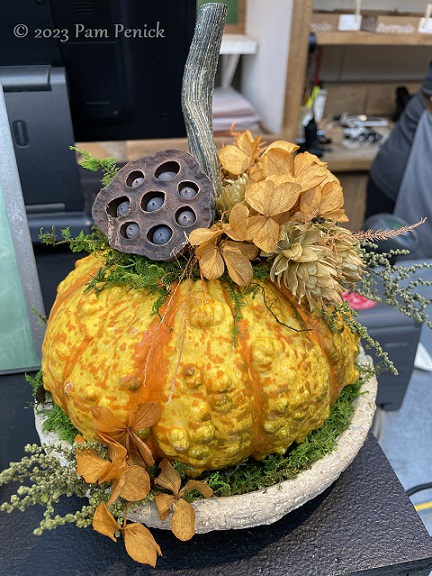 Another one wearing a lotus-seedpod fascinator
OK, let's tear ourselves away from the store and visit the nursery yard, where the fall theme continues in window-box displays…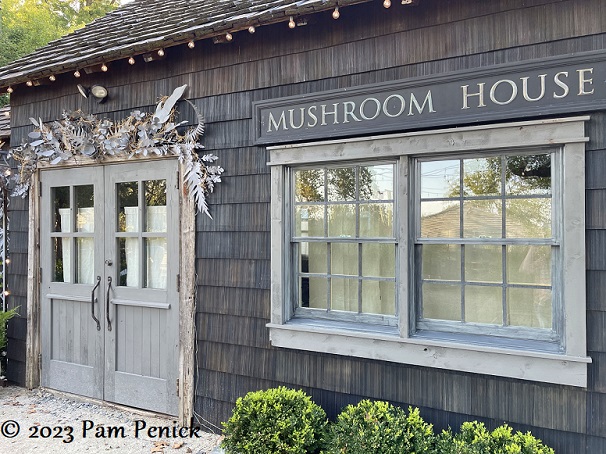 …a silver-and-gray mushroom house (what is this?)…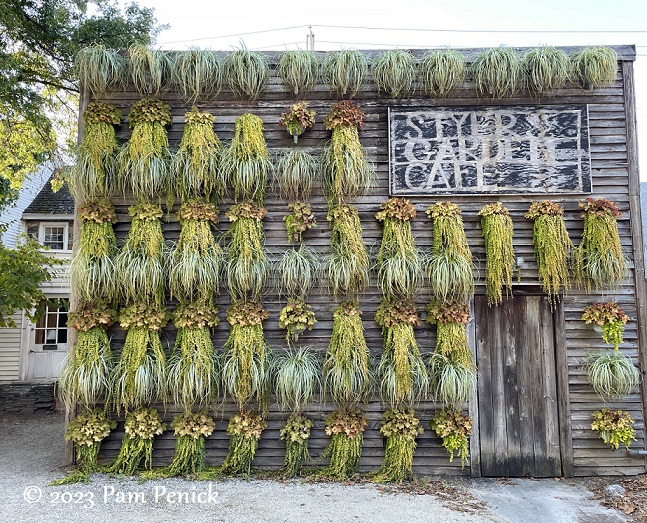 …and Terrain's much-photographed green wall on the old Styer's outbuilding.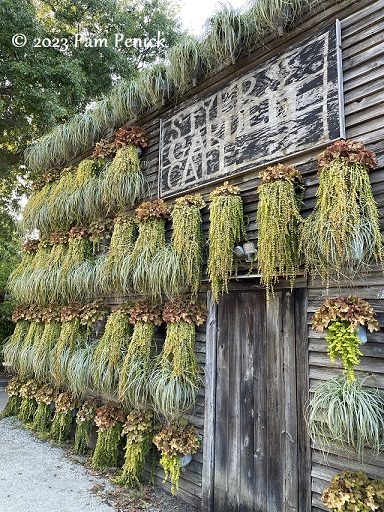 The plants change seasonally — this year they look like jellyfish, right? — but the galvanized funnel planters remain.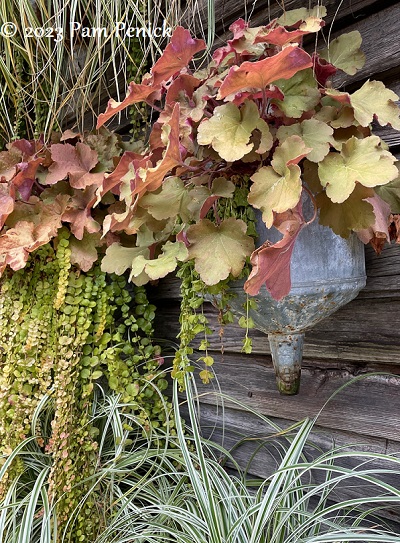 How do they keep them all watered, I wonder?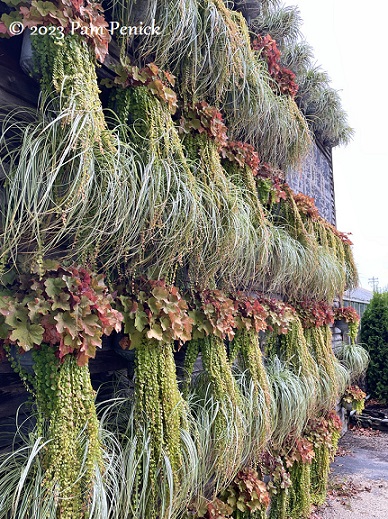 Great color and texture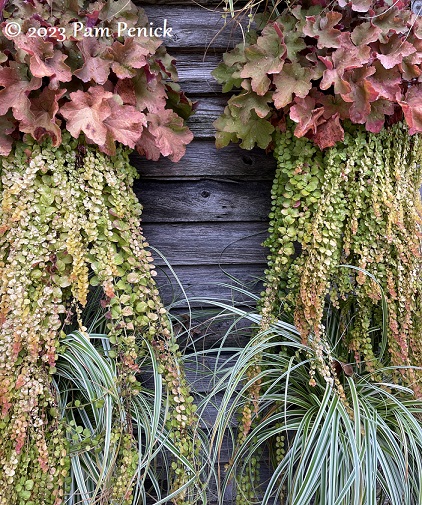 One more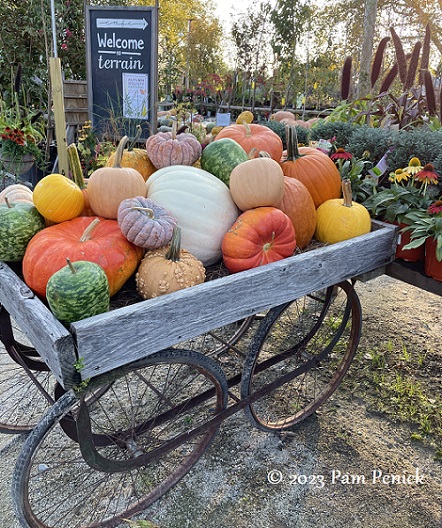 A colorful pumpkin wagon offered a preview of all the pumpkins Terrain was selling in late September.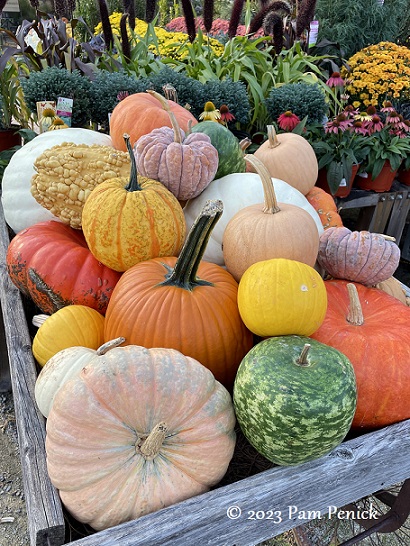 Like a bag of Skittles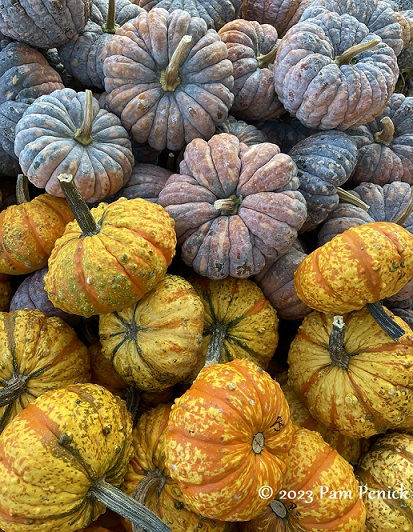 There were pumpkins of all colors and textures.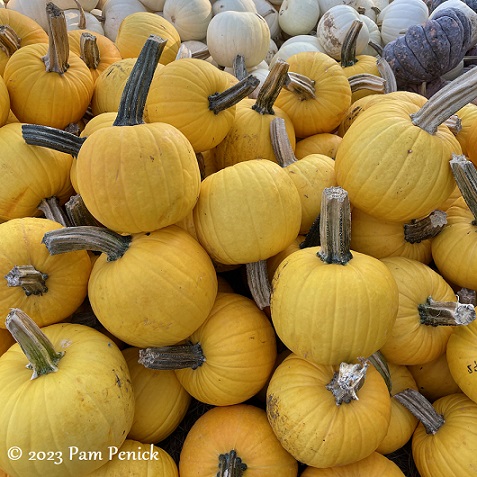 Including a cheddar-yellow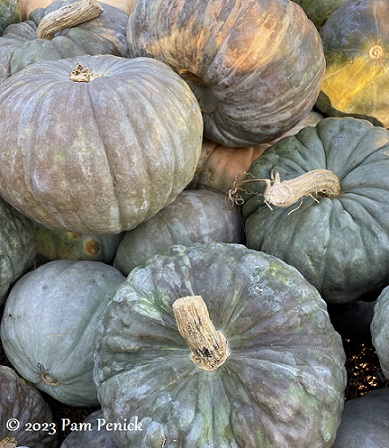 Mottled greenish-gray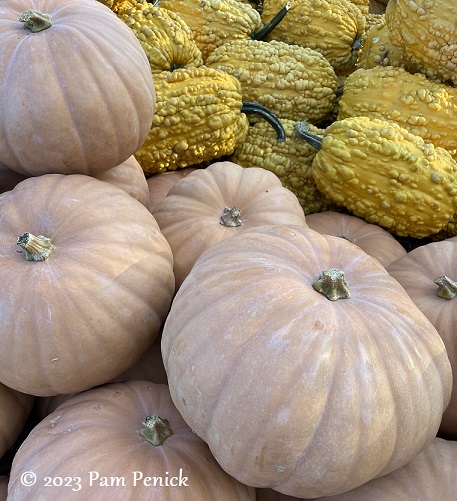 There were pumpkins like corn on the cob and a handsome pale-terracotta pumpkin called Long Island Cheese.
Snazzy striped pumpkins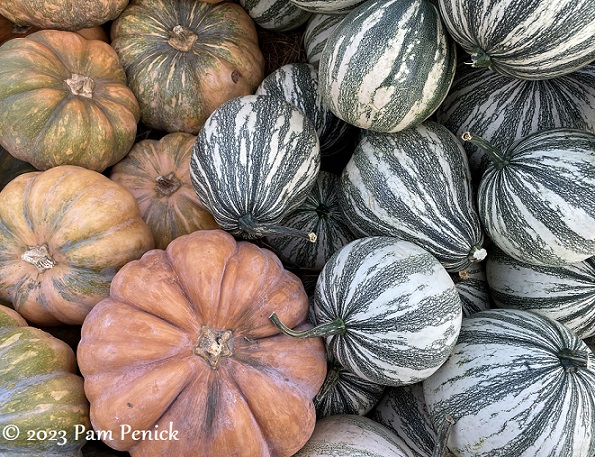 And orange-and-green Cinderella-style pumpkins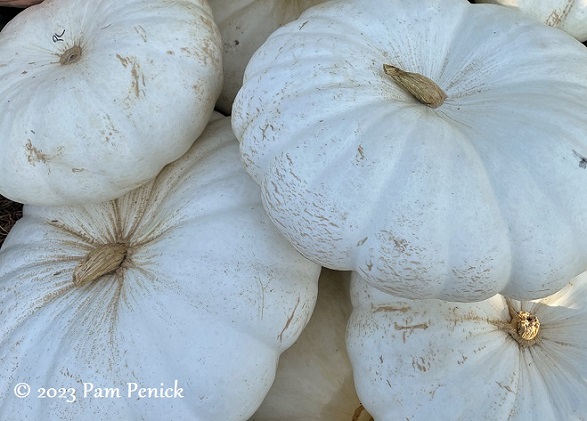 A flat white pumpkin called Moon Stacker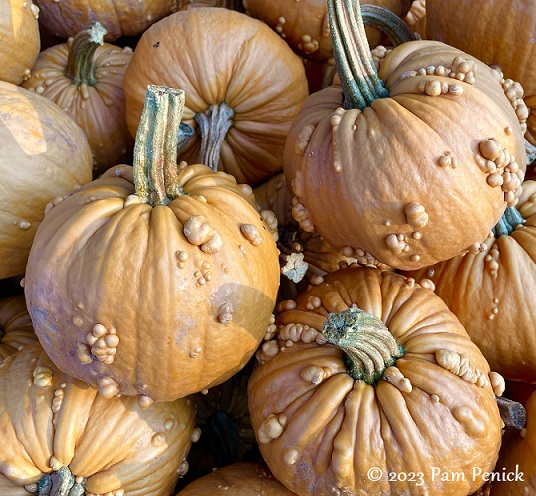 And a warty, peanut-butter-colored pumpkin called Baby Bumps. I would pile up my front porch with all of these if I didn't live where the heat rots them and deer eat them.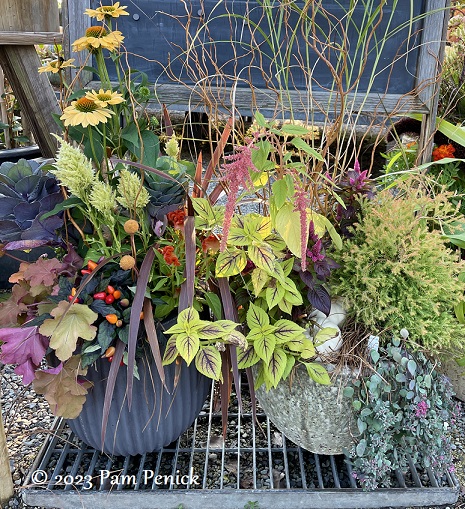 Fall containers were available too.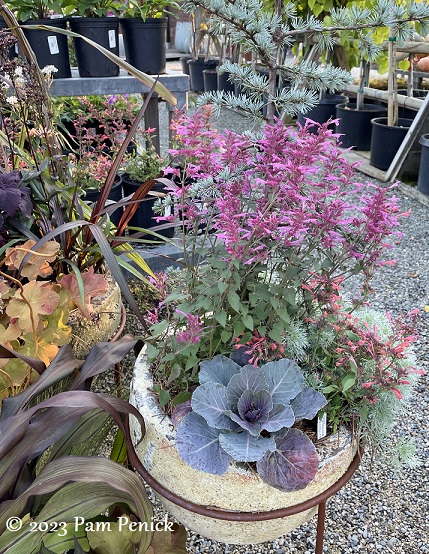 I love this combo of pink agastache and steel-blue cabbage.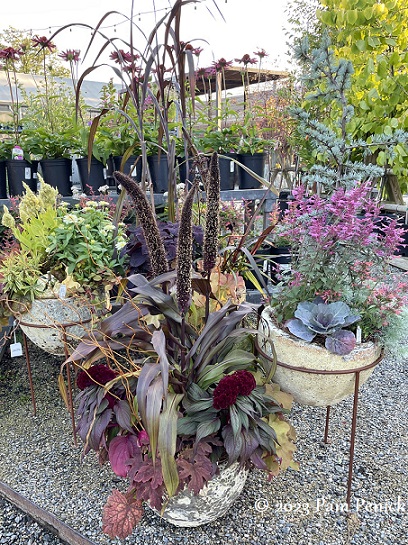 Black millet too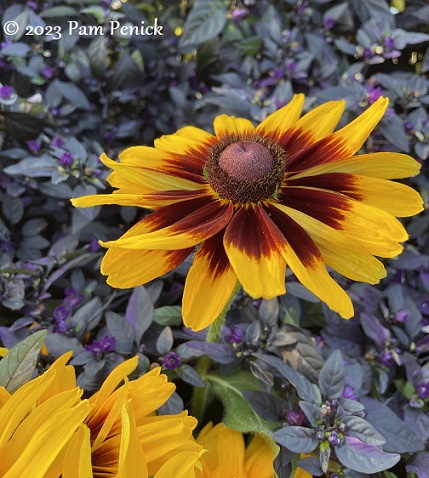 Rudbeckia and dark-leaved peppers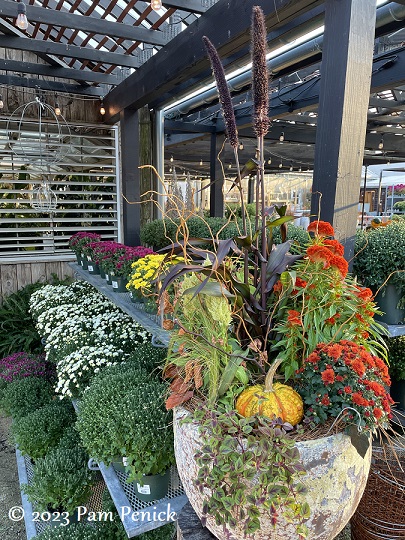 More millet!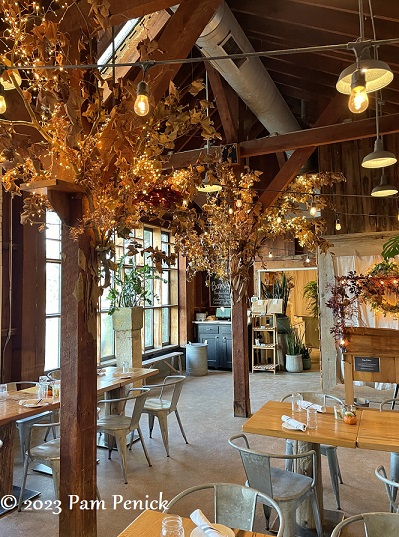 Finally it was time for our dinner reservation at Terrain's Garden Cafe, which was beautifully decorated for fall too — and tasty.
Up next: A fantasy bamboo garden at WynEden. For a look back at homey Brandywine Cottage garden, click here.
I welcome your comments. Please scroll to the end of this post to leave one. If you're reading in an email, click here to visit Digging and find the comment box at the end of each post. And hey, did someone forward this email to you, and you want to subscribe? Click here to get Digging delivered directly to your inbox!
__________________________
Digging Deeper
Come learn about garden design from the experts at Garden Spark! I organize in-person talks by inspiring designers, landscape architects, and authors a few times a year in Austin. These are limited-attendance events that sell out quickly, so join the Garden Spark email list to be notified in advance; simply click this link and ask to be added. The Season 7 lineup can be found here.
Tour several Austin gardens on Saturday, November 4, on the Garden Conservancy's Open Day tour for Travis County. Tickets must be purchased online in advance and will be available beginning September 1st.
All material © 2023 by Pam Penick for Digging. Unauthorized reproduction prohibited.