October 19, 2023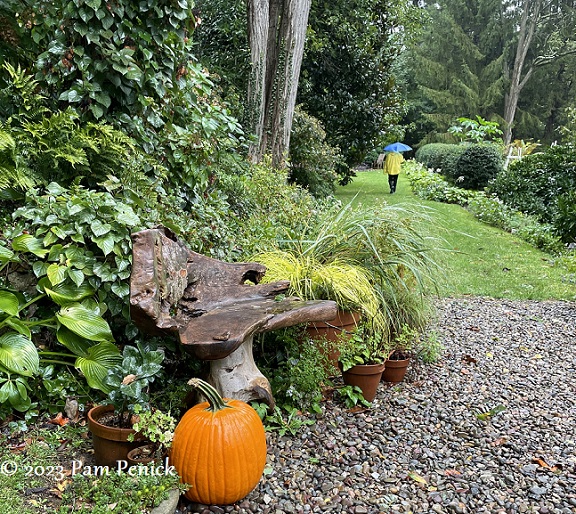 Tropical Storm Ophelia swept across the Philadelphia region during late September's Philly Area Fling. But Flingers shall not be deterred! On we Flung in raincoats, ponchos, umbrellas, and waterproof shoes — or in sopping wet pants and socks. Our group arrived at plantsman and designer David L. Culp's well-known Brandywine Cottage in Downingtown, PA, one soggy morning. From the bus parking on a nearby street, David led us carefully downhill along a muddy, slippery trail and into his garden, where a marvelous tree-trunk bench marks the entrance. The garden was a little windblown but glowing and autumnal.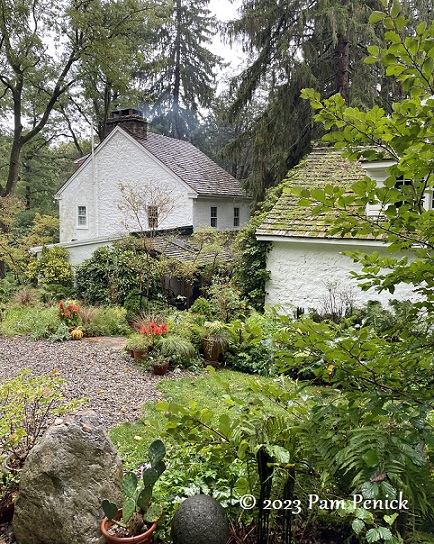 David's white farmhouse — built in the late 1700s! — draws your eye first. Notice the blue smoke wafting from the chimney. I mean, I'd just left Texas's eternal summer, so this cozy autumn scene hit me hard. Fall! In September!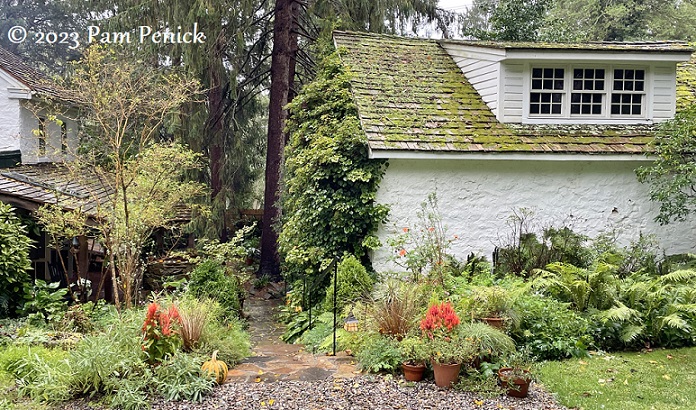 The entry stairs are marked by pots featuring red flowers or foliage and a few pumpkins charmingly scattered along its length.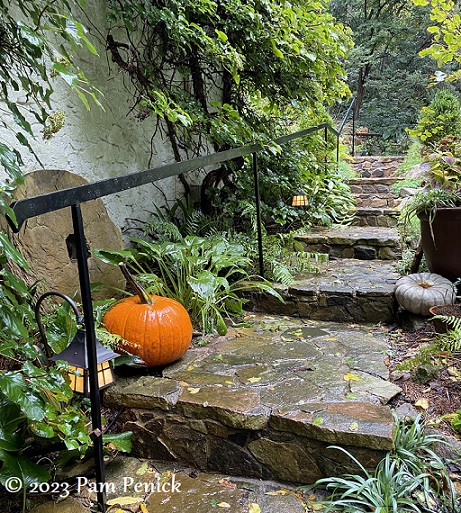 I swear it's a scene right out of Hobbiton, that fictional Tolkien land bordered by the Brandywine River.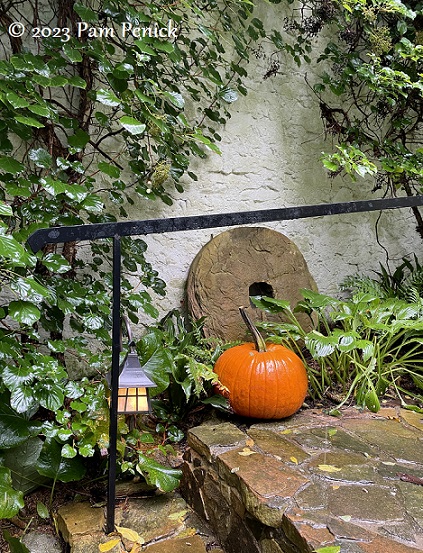 Small lanterns light the way, past rain-wet foliage, pumpkins, and an old millstone.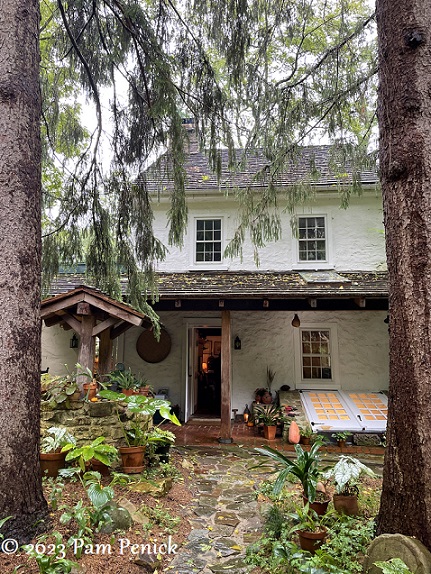 David said something about his home and garden being intentionally simple, in keeping with its rural, late-18th-century vernacular. By the front porch stands a rock-rimmed well, on which David displays a collection of potted plants. The lighted, multi-paned cellar doors open to basement steps, where he keeps tender plants in the winter.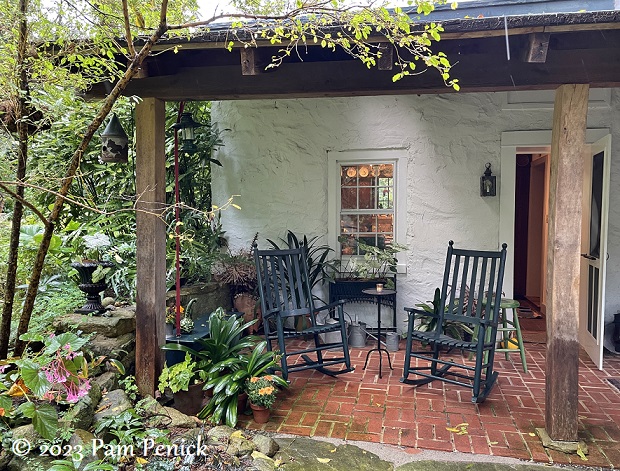 Rocking chairs on the brick porch make an inviting scene.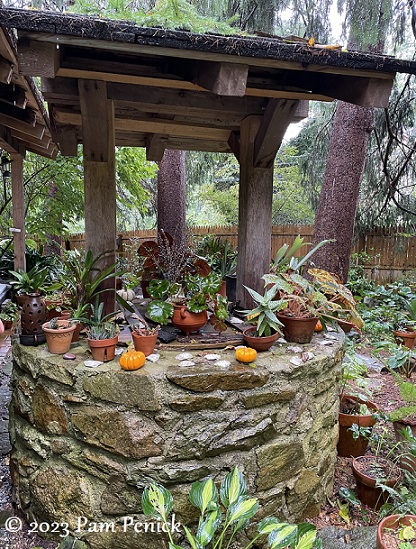 The old well serves as a plant display table.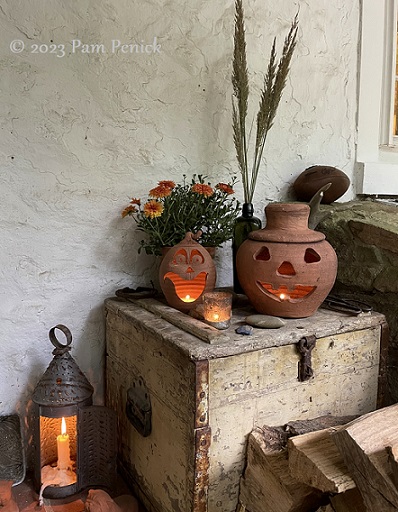 On this chilly, wet day, David's glowing fall decor was a welcome sight.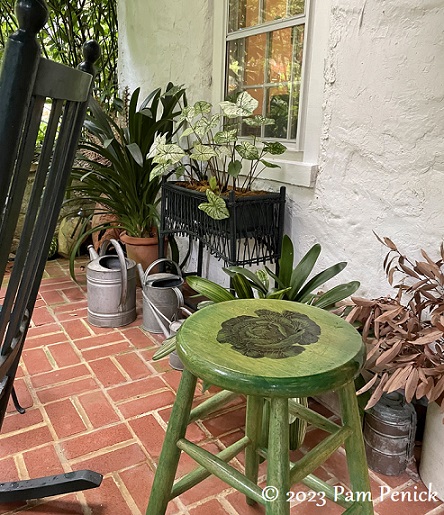 Another porch detail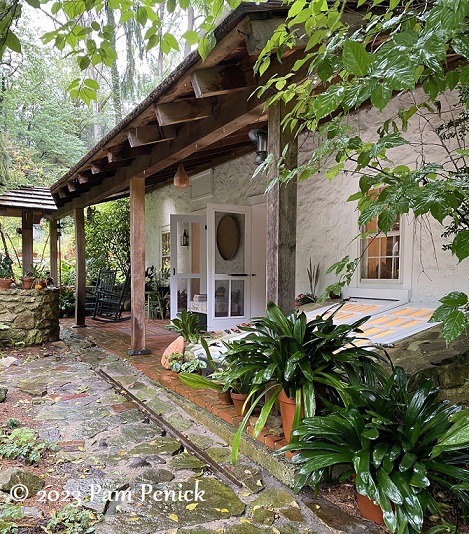 David's porch game is strong. I loved its lack of pretension and homey charm.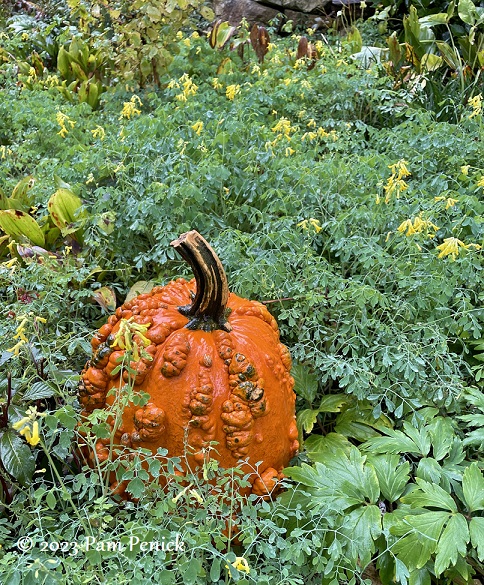 A warty pumpkin adds seasonal color to the hillside bed above the house.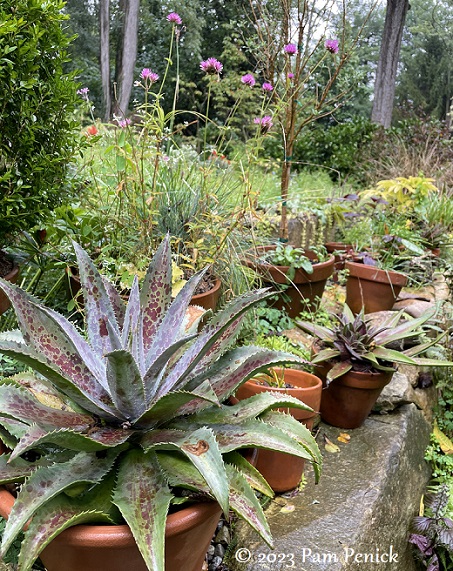 Succulents and 'Fireworks' gomphrena thrive in the reflected heat of a stone wall.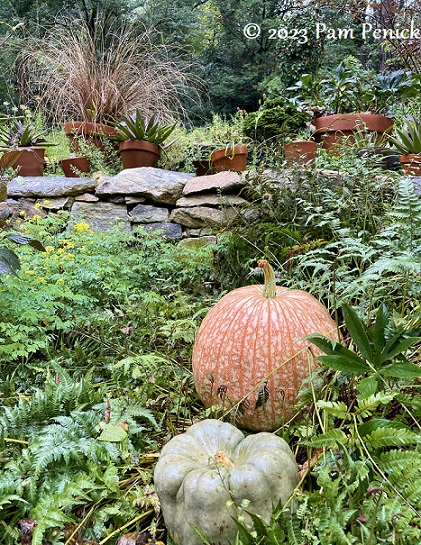 More pots and pumpkins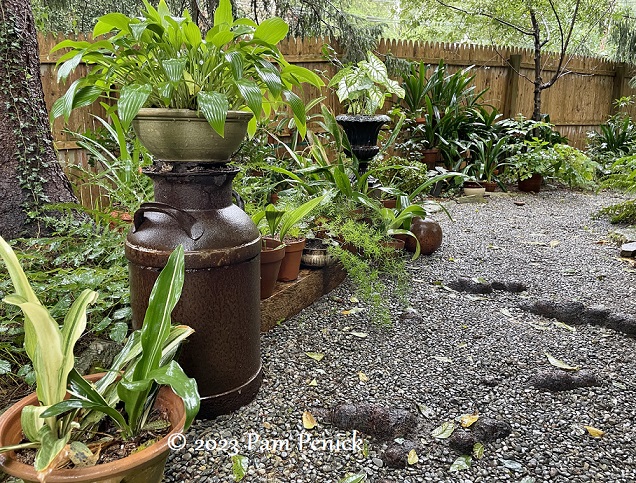 On the other side of the house, a shade garden patio is bordered with potted plants staggered at varying heights. Knobby tree roots surface in the gravel path like gator backs in a swamp.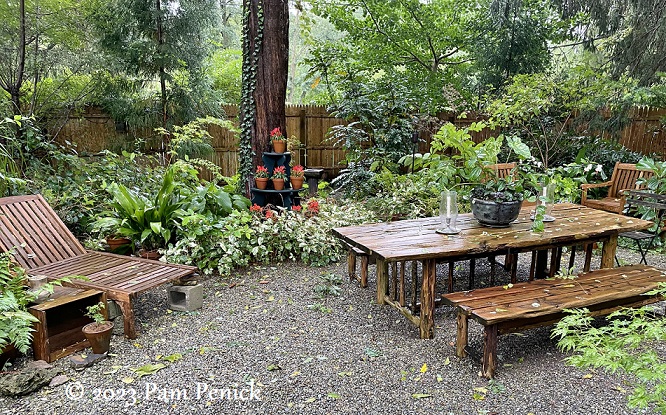 I really like this space under the trees — just gravel, relaxed seating, and lots of green foliage.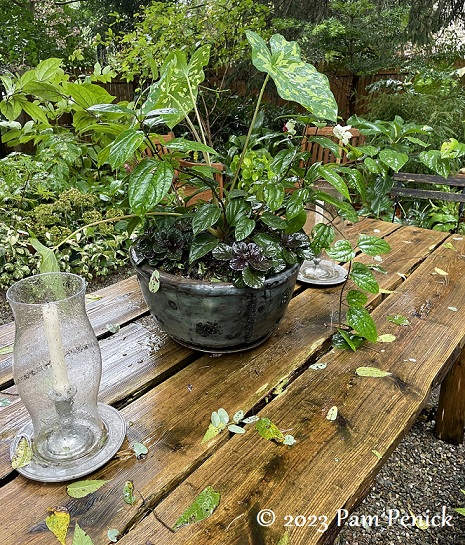 Table decor and leaves scattered by Tropical Storm Ophelia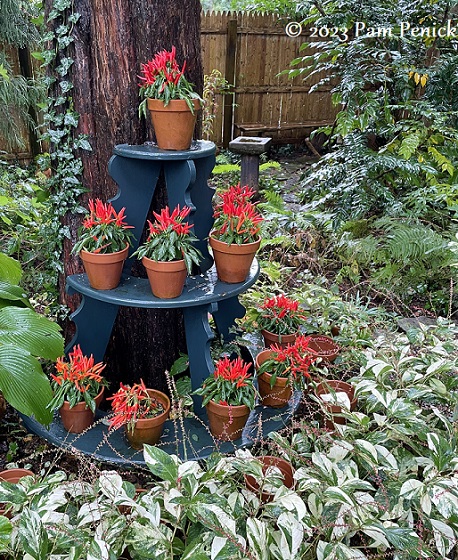 A peacock-blue etagere displaying fire-engine-red peppers provides a jolt of color.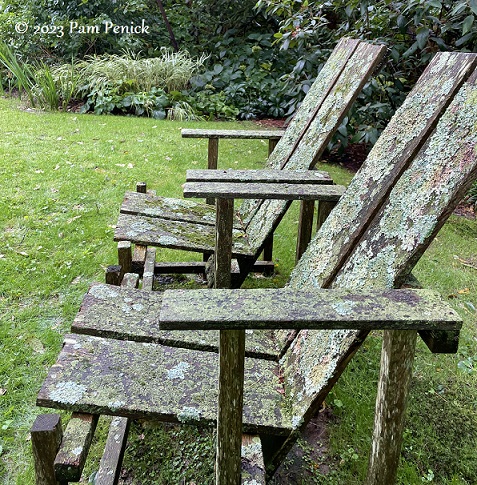 Lichen-encrusted Adirondacks add a proper sense of age to the 30-year-old garden.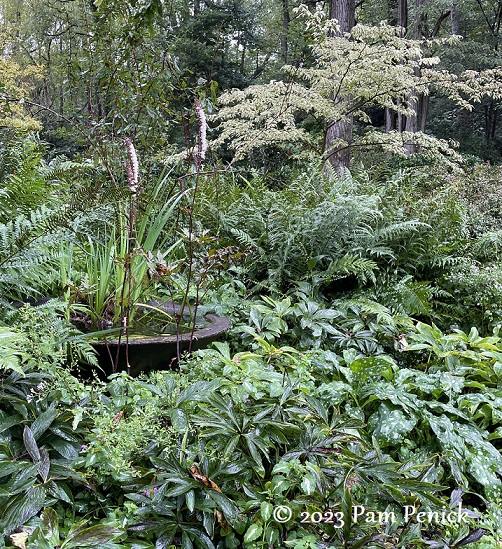 In the main garden behind the house, a shady border stretches along one side.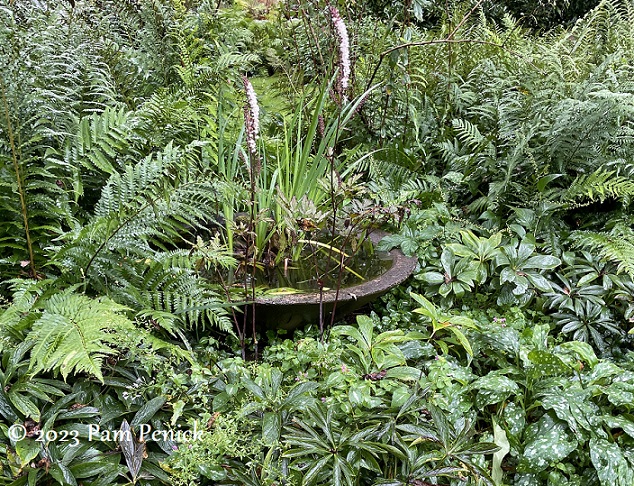 I admired this bronze vessel of water set amid lush foliage.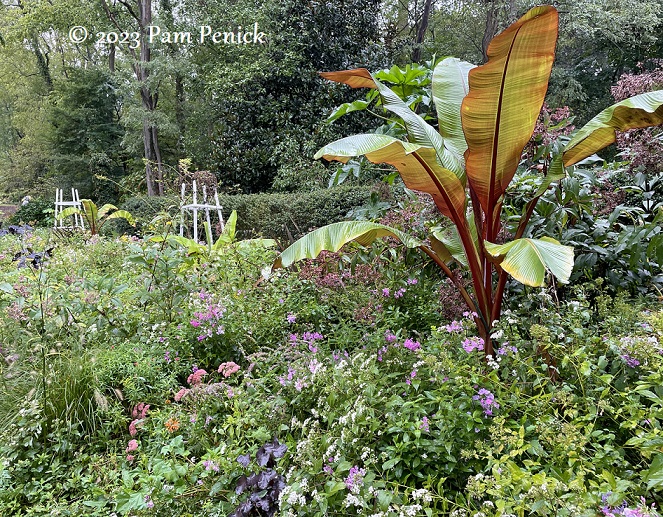 In the sunnier borders, bananas add tropical color and form amid flowering perennials.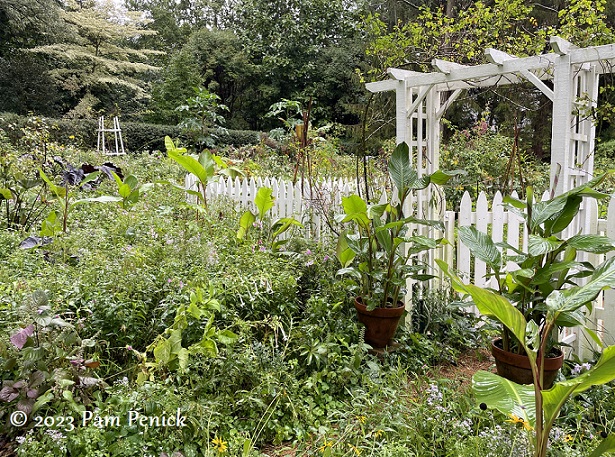 Right in the center of the garden, a white picket fence and arbor draw you in.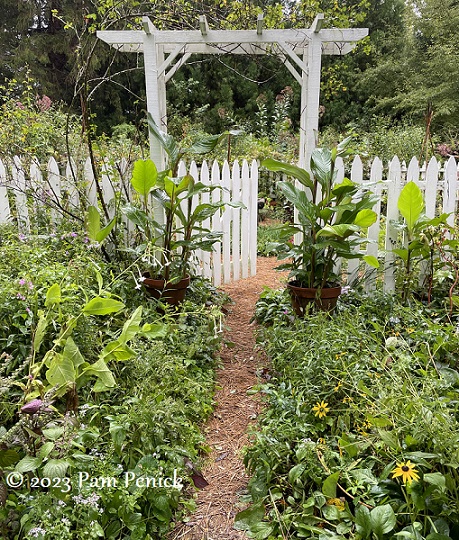 Inside the gate…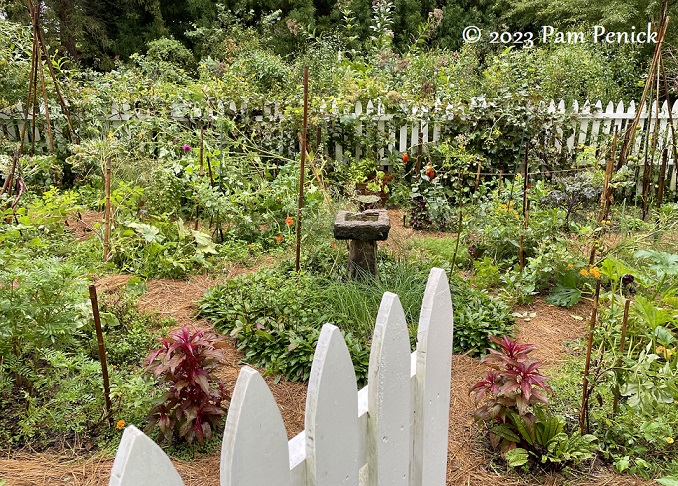 …is the Veg, a traditionally laid-out vegetable garden accented by vertical bamboo trellises.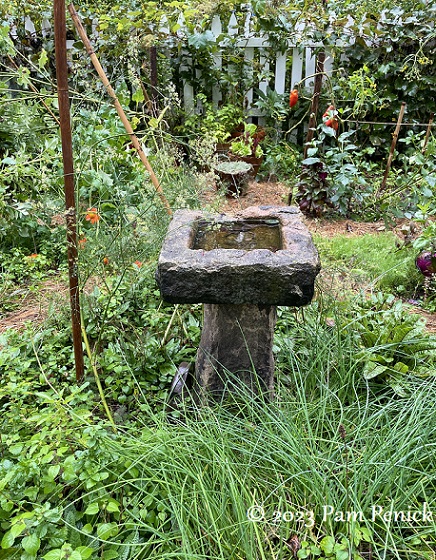 A chunky, square birdbath makes a rustic focal point.
Country charm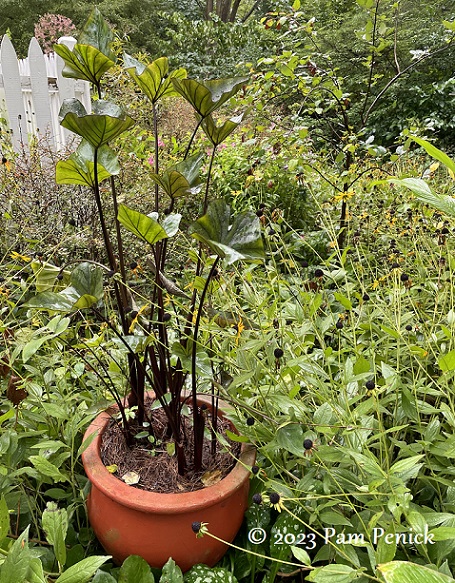 Outside the Veg, the garden had taken a pummeling from the storm, but aside from one blown-over banana, everything was still standing.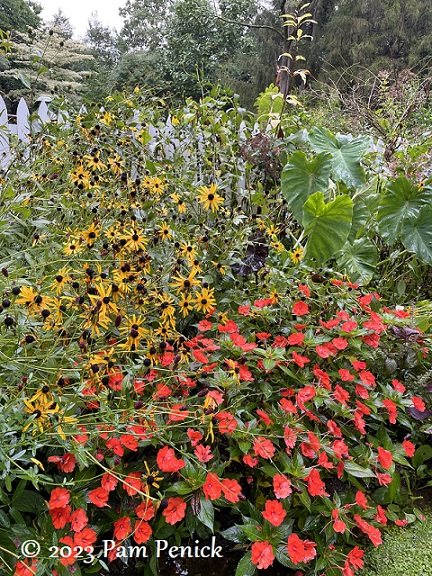 Late-season color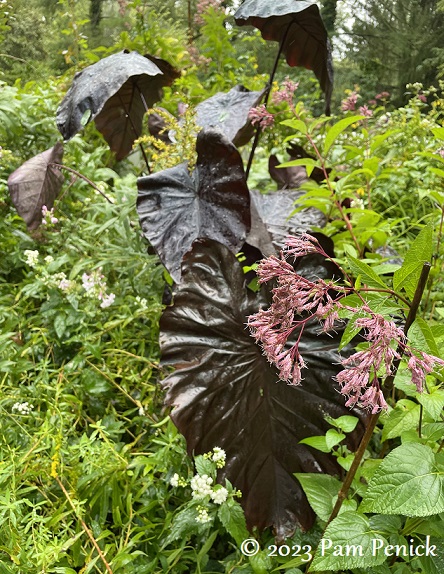 Potted tropicals like this black colocasia add drama.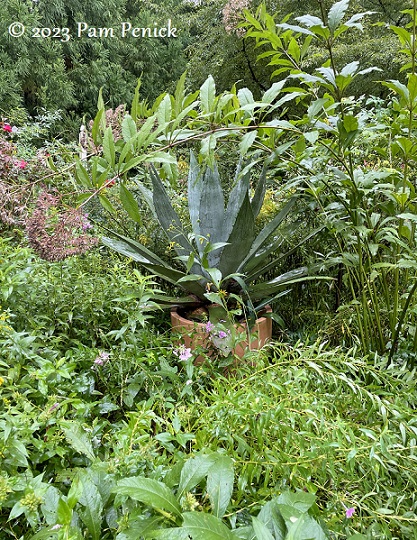 There's always an agave, as Loree/Danger Garden reminds us.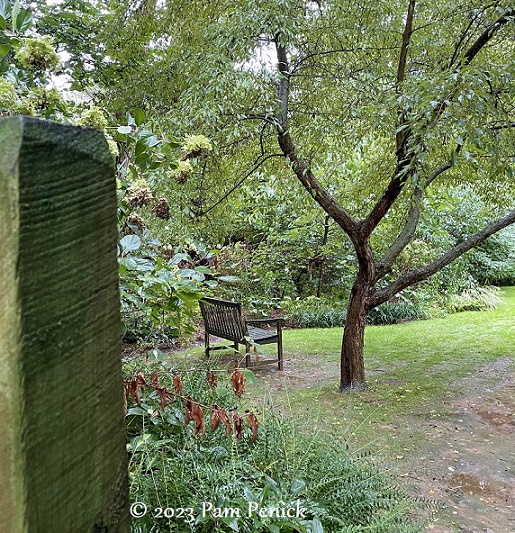 A bench under a graceful tree — one of many quiet spots to sit and admire the garden on a less soggy day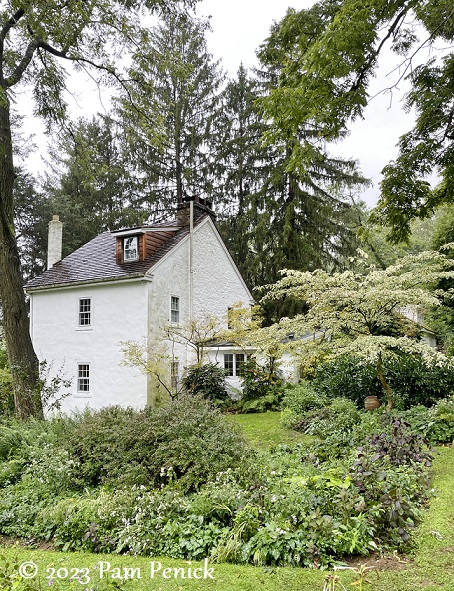 Looking across the garden toward the house, you can appreciate the property's towering trees.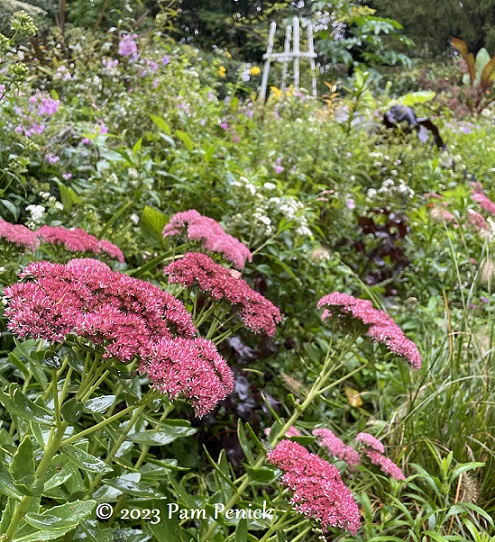 Flowering sedum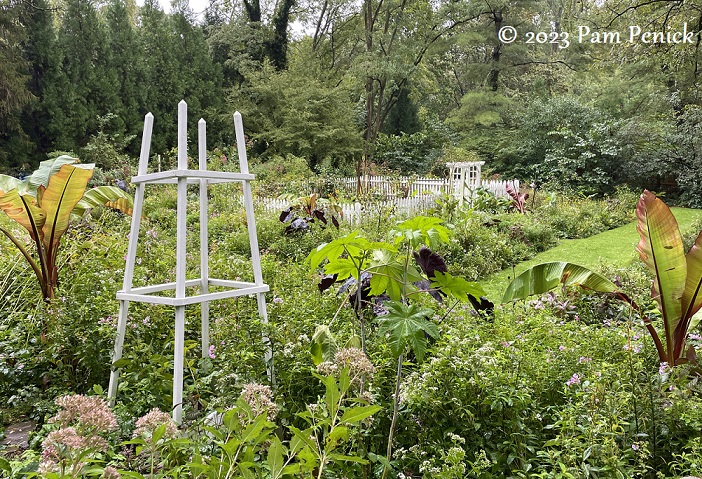 On the uphill side you get an overlook of the main garden.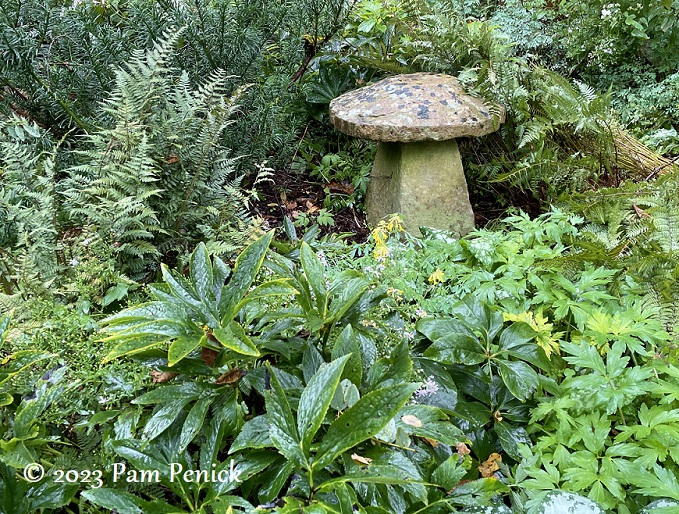 A shady space near the house is planted with ferns and other shade lovers, and accented with a staddle stone.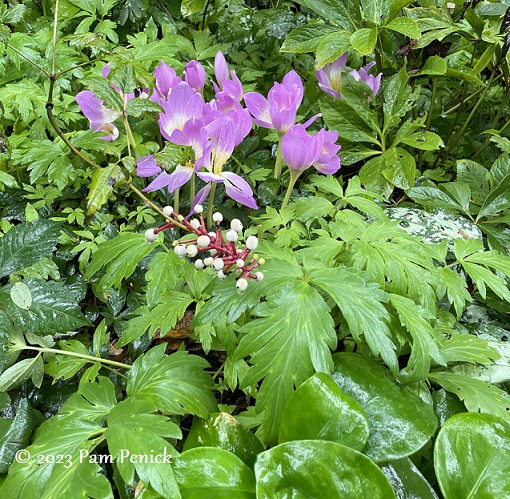 Colchicum, one of many we saw blooming throughout the Philly area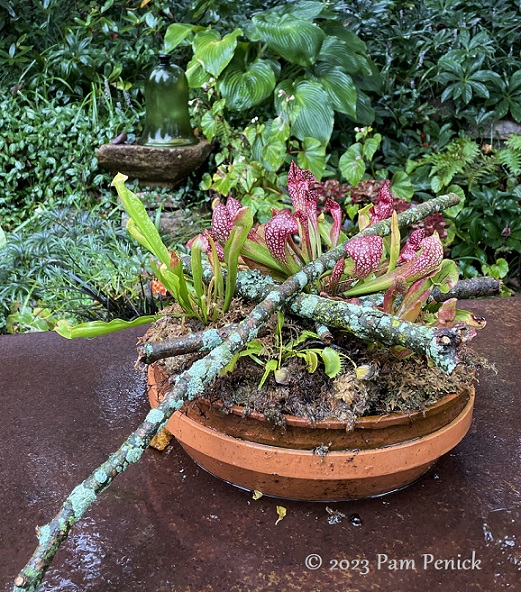 A saucer of rosy pitcher plants is given a woody touch with crisscrossed sticks bejeweled with turquoise-colored lichen.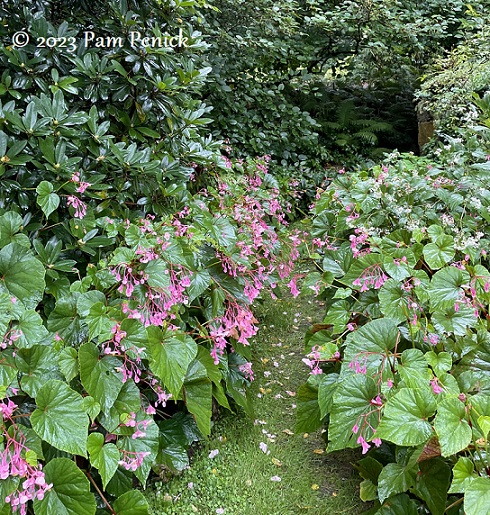 A petal-strewn begonia path leads into a tunnel of foliage…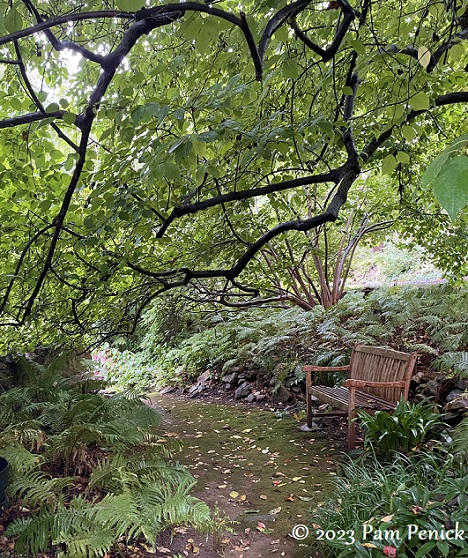 …where a picturesque bench awaits anyone wishing to commune with the trees.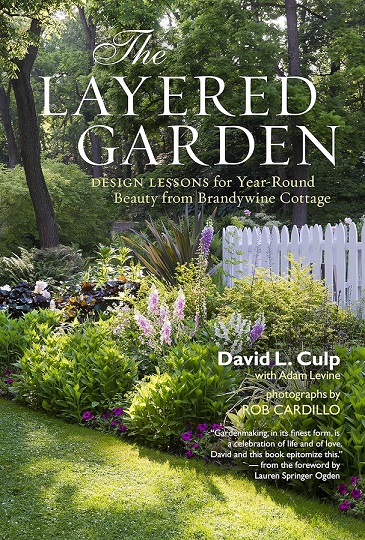 If you'd like to see more of David's garden and learn from his design expertise, check out his books, The Layered Garden…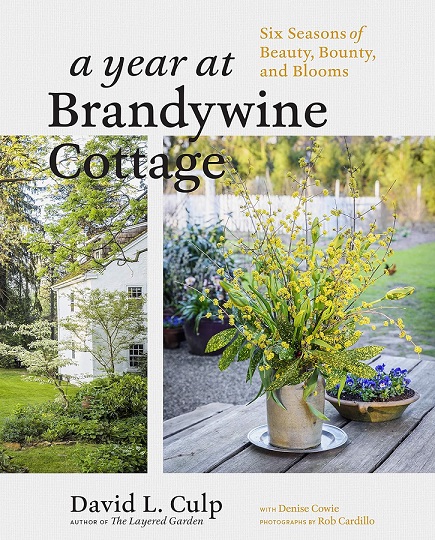 …and A Year at Brandywine Cottage.
I also recommend this wonderful article in the New York Times by Margaret Roach from October 2021 (it's a gift link, so it shouldn't be behind a paywall) and this article by Adrian Higgins in the Washington Post Magazine from June 2020.
Up next: A shopping detour and fall decor at the beautiful shop Terrain. For a look back at a moon gate and other celebrations of stone at Boulder Haven, click here.
I welcome your comments. Please scroll to the end of this post to leave one. If you're reading in an email, click here to visit Digging and find the comment box at the end of each post. And hey, did someone forward this email to you, and you want to subscribe? Click here to get Digging delivered directly to your inbox!
__________________________
Digging Deeper
Leander Garden Tour this Saturday, October 21, from 10 am to 3 pm. Visit 6 private home gardens in the Cedar Park/Leander, TX, area on a tour sponsored by the Hill Country Bloomers Garden Club. Tickets are $15; children 12 and under are free.
Come learn about garden design from the experts at Garden Spark! I organize in-person talks by inspiring designers, landscape architects, and authors a few times a year in Austin. These are limited-attendance events that sell out quickly, so join the Garden Spark email list to be notified in advance; simply click this link and ask to be added. The Season 7 lineup can be found here.
Tour several Austin gardens on Saturday, November 4, on the Garden Conservancy's Open Day tour for Travis County. Tickets must be purchased online in advance and will be available beginning September 1st.
All material © 2023 by Pam Penick for Digging. Unauthorized reproduction prohibited.