Richard Riakporhe calls for Chris Billam-Smith world title showdown: 'The time is now!' | Boxing News
Richard Riakporhe has beaten Chris Billam-Smith before. Now he wants to fight him again for Billam-Smith's newly-won WBO world title.
Riakporhe took a split-decision victory over Billam-Smith over 10 rounds in 2019. He remains the only professional fighter to have beaten Billam-Smith.
Riakporhe is undefeated himself and his most-recent victory against Krzysztof Glowacki has put him in the frame for his own world title shot.
Billam-Smith's trainer Shane McGuigan says there is no animosity towards his ex-fighter Okolie and targets a fight with Richard Riakporhe

He wants that to come against Riakporhe.
"That's big and that's how we kind of envisioned the rematch, on that stage, at that level. And what better time? The time is now. Why not?" Riakporhe told Sky Sports.
"So let's just see how it all pans out. We're going to have some meetings next week and we're going to see what happens."
He added, though: "I don't want to take nothing away from CBS. CBS, you've done something amazing.
"You beat an undefeated champion and in that fashion, a few knockdowns and you won clearly.
"You have to give him respect or his due. I don't want to come and rain down on the parade as well because it's his night. But of course we want to let him enjoy that and then we can talk some business."
Riakporhe has set his sights on world titles after signing a long-term contract extension with BOXXER and Sky Sports

Riakporhe, though, did maintain he would be a harder fight for Billam-Smith.
"If anybody knows me they know I have much more to my game than Okolie anyway," Riakporhe said. "I have good IQ now. I know what I'm doing. I have experience. He would have to deal with a lot more than just trying to take away my right hand.
"My last let's say four fights, I've probably knocked them out with my left hand. So that's something else that you need to think about."
But equally he knows Billam-Smith's unique will to win makes him formidable.
"He did look hurt but he really wanted to get that 'W' and he was ready to do whatever. I could see it in his eyes. I could see it in his demeanour, his body language. It was his night," Riakporhe said.
"They are hard men to beat, always. That's why when you're going up against a fighter like that, who you know has got heart, you just know you're in for a long night.
"And if you don't land that shot, it's going to be a longer one."
What should Okolie do next?
Earlier this year Riakporhe did have an altercation with Okolie and their rivalry has not faded away yet.
Riakorphe was critical of Okolie's performance on Saturday.
"There's something with his style that doesn't gel with the new coach," he said. "I don't know, maybe there's something in his mind, I think he's lost a lot of confidence as well. There's a lot of factors. But who knows?"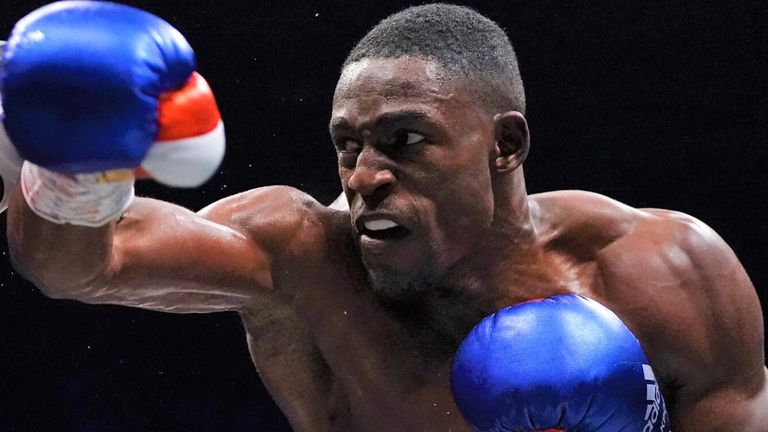 Okolie does have a rematch clause so could enforce a second fight with Billam-Smith. But Riakporhe thinks he should now move up to heavyweight. At 6ft 5ins, it can't be easy for Okolie to keep making cruiserweight.
"Maybe he needs to do that," Riakporhe said of Okolie moving up. "Even the punch resistance looked a bit shaky. He doesn't get caught with a lot of shots anyway so why can there be some type of issues when he's getting hit with left hooks like that? It doesn't make sense.
"Maybe I think it's time that he grows into his actual real bodyweight and let the frame put the weight on."